Rent Skid Steers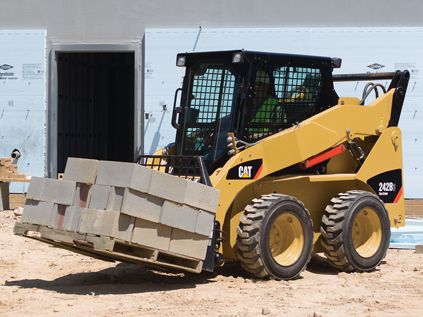 | Model | Engine | Weight | Capacity |
| --- | --- | --- | --- |
| Cat 226 | 56 hp | 5,822 lbs. | 1,500 lbs. |
| Cat 236 | 71 hp | 7,007 lbs. | 1,950 lbs. |
| Cat 242 | 71 hp | 7,007 lbs. | 2,150 lbs. |
| Cat 246 | 73 hp | 7,480 lbs. | 2,150 lbs. |
| Cat 262 | 73 hp | 8,011 lbs. | 2,700 lbs. |
| Cat 272 | 95 hp | 8,252 lbs. | 3,200 lbs. |
| Cat 272 XHP | 106 hp | 9,137 lbs. | 3,700 lbs. |
Whether you're working in landscaping, agriculture, or construction, it's likely you rely on a skid steer to help you complete your work quickly and easily.
The versatile skid steer can perform hundreds of jobs – including scooping soil, cutting brush, jackhammering concrete and digging deep holes – thanks to its ability to use dozens of attachments. To help you accomplish these tasks, Carter also rents skid steer attachments such as augers, brooms, blades, brush cutters, rakes, roller, trenchers and more.
If you're looking for a machine to handle treacherous terrain, we suggest renting one of our tracked skid steers.
At Carter Machinery, we have skids steers in a variety of sizes. And with our First-Call Promise and multiple locations strategically placed throughout Virginia, we guarantee we'll have the skid steer you're looking for available for rent.

Contact a Carter rental representative or visit our online rental store to get a quote.
View All Skid Steer Loader Rentals
Related Rental Equipment