Undercarriage Services
The maintenance costs of your undercarriage compose 50% of your total investment in machine care. Prevention of deep damage to your equipment reduces maintenance expenses and increases your bottom line. There are many advantages to maintaining your undercarriage including increased safety, stable machine value, reduced repairs, high-level performance, and more. Our undercarriage services include:
Quality "Wet" Brushing: gives you built-in wear life
Idler Resurfacing: extends idler life at a fraction of the cost of replacement
Roller Reshelling: allows the reuse of tough inner components
Shoe Regrousering: extends shoe life instead of shoe replacement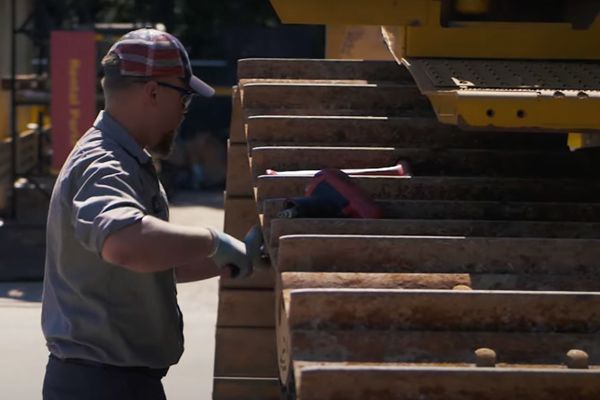 WET PIN AND BUSHING TURNS
In order to fight the degradation process of pin and bushings, Carter Machinery uses wet turns to prolong the use and efficiency of your undercarriage. In a wet pin and bushing turn, the undercarriage's links are pressed down, and the bushing seals are replaced. The track is then pressed back together, and the pins are filled with new oil. This process pulls a vacuum on the pin oil hole, filling it with new lubricating oil. In a dry turn, the old seals are reused, with the bushings turned before the links are pressed back together.
Although both processes can restore the track pitch and prolong the life of the link assembly, the dry turn does not ensure proper lubrication of the pins going forward. A wet turn ensures the pins remain well lubricated with oil after the turn is performed, giving extended wear life to the track link assemblies.