Manage Invoices
Manage your account online with the ability to search for invoices by date, purchase order number or even type of transaction. You can also download current and past statements. Set up multiple people at your company with only the access they need.
Download Monthly Statements
Download current and previous months statements in a convenient PDF format for easy printing and saving.
Search for Invoices
Never be without a copy of an invoice again. Search for invoices by a variety of criteria including:
Date Range
Type (Sales, Rental, Parts, or Service)
Purchase Order Number
Invoice Number
Paid or Unpaid
Customize Access by User
Define who at your company has access and what information they see. This feature is especially useful if your company has multiple accounts for different jobsites or locations.
Manage Carter Machinery Invoices
Login here to see your past and current invoices with Carter Machinery. You can pay your invoice all with the press of a button. Your information is protected with the highest level of encryption available, so you can be assured that your business is safe.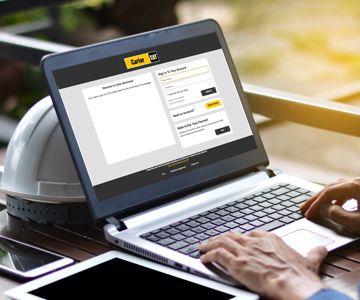 Manage Cat Financial Invoices
Log into your Cat Financial account to pay bills, check interest paid, print contracts, sign documents, and more. You can also apply for Cat equipment credit in just three easy steps.