Rent Wheel Loaders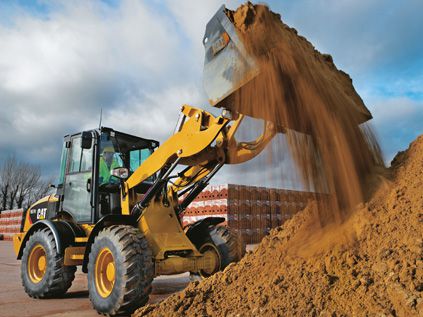 | Model | Engine | Weight |
| --- | --- | --- |
| Cat 906H2 | 74 hp | 12,412 lbs. |
| Cat 908H2 | 74 hp | 14,253 lbs. |
| Cat IT14G2 | 95 hp | 17,771 lbs. |
| Cat 924K | 137 hp | 26,497 lbs. |
| Cat 930K | 156 hp | 28,959 lbs. |
| Cat 938K | 184 hp | 33,391 lbs. |
| Cat 950K | 213 hp | 42,811 lbs. |
| Cat 962H | 224 hp | 45,055 lbs. |
| Cat 966K | 267 hp | 53,311 lbs. |
| Cat 972K | 288 hp | 57,795 lbs. |
| Cat 980K | 369 hp | 68,881 lbs. |
When you start looking into wheel loaders available for rent, you realize quickly that many have fast cycle times, which translates to more material being moved and productivity being raised. With a powertrain that delivers maximum power to the ground and the appropriate amount of power that the hydraulic system demands, these rented loaders feature best-in-class stability, versatility, and visibility.
Power, versatility, and comfort are also part of the appeal of these wheel loaders available for rent. Virtually all of them have been designed for consistent, cost-effective performance in demanding conditions, and many feature an electronic autoshift transmission, load-sensing steering and a gear-kickdown button.
In addition to wheel loaders, Carter Machinery also rents articulated trucks, excavators and skid steers. Contact us today for all of your machinery and equipment needs.
Related Rental Equipment