Rent Straight Mast Boom Lifts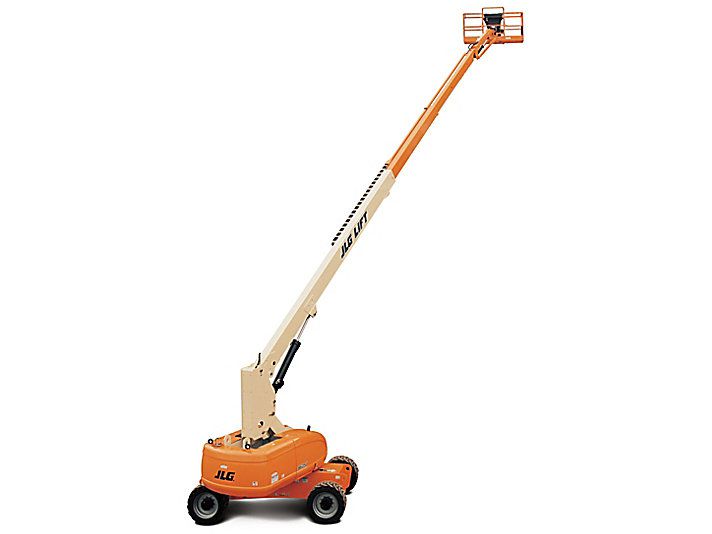 | Model | Height | Weight | Fuel |
| --- | --- | --- | --- |
| Genie S45 | 45′ | 14,790 lbs. | Diesel |
| Genie S60 | 60′ | 20,690 lbs. | Diesel |
| Genie S65 | 65′ | 22,270 lbs. | Diesel |
| Genie S80 | 80′ | 35,500 lbs. | Diesel |
| 460SJ | 46′ | 16,600 lbs. | Diesel |
| 600S | 60′ | 21,461 lbs. | Diesel |
| 660SJ | 65′ | 25,341 lbs. | Diesel |
| 800S | 80′ | 33,030 lbs. | Diesel |
| 860SJ | 85′ | 36,230 lbs. | Diesel |
If your project requires employees to be more than 50 feet in the air to conduct their work, there's a good chance you need to rent a straight mast boom lift to complete the project.
This machine – commonly known as a cherry picker – can lift workers up to 80 feet in the air in an 8-foot basket. The boom lift can then easily adjust heights so your employees can complete their project.
On the ground, drivers can easily move from side to side and even maneuver in bumpy terrain thanks to 4×4 capabilities.
The driving and lifting abilities of this piece of equipment make it ideal for tree trimmers, utility companies, and anyone who works on tall structures.
Contact a Carter Machinery rental representative today to learn which size boom lift is right for your situation. Our First-Call Promise guarantees we'll have the straight mass boom lift that you're looking for in stock and ready to rent.
Need another type of lift? Check out our inventory of push-around man-lifts and articulating boom lifts.
View Available Boom Lifts For Rent
Related Lift Rental Equipment