NEXT GENERATION CAT® MATERIAL HANDLERS
Productivity at Its Best
The next generation Cat Material Handlers were built to provide the highest level of output while staying versatile. Whether your company operates scrap yards, transfer stations, port operations, or something in between, it is important to find the right boom and stick combination for your application. We have various options for your business depending on the specific type of material you are working with and how far and fast you need to move it.
Material Handler Applications Include:
Demolition
Scrap & Recylcling
Ports & Waterways
Industrial Processing
Utilities (Coal Pile)
Landfills
Transfer Stations
Manufacturers
Waste to Energy
Cell Construction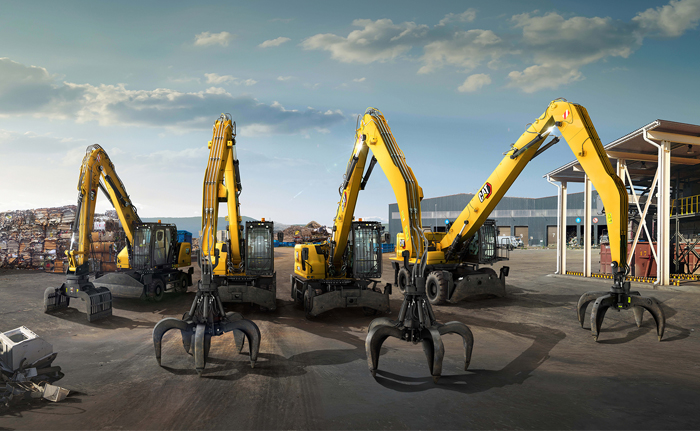 Key Improvements

Designed for Safety
Large tempered glass windows with small pillars
New contact avoidance between attachment and cab
Thicker, high-impact, and impact-resistant windshields and roof windows

Comfort & Flexibility
Larger high-resolution touchscreen monitor
Joystick steering option to replace steering column
New heavy lift mode improves lifting capacity and controllability

Serviceability
Up to 50% longer hydraulic oil service life
Daily maintenance points accessible from ground level
Track filter life and maintenance intervals on the in-cab monitor
Track or Wheel?
Are you looking for a flexible wheel model or a sure-footed track model? Wheel models have four-wheel drive, allowing them to still be effective where the ground is uneven. When deciding between a track or wheel material handler, you must first determine what application your machine is being used for. The best way to determine between track and wheel material handlers is to perform a comprehensive site survey. During this survey, you should determine things such as maximum reach, drive system needed, level of mobility needed, and the terrain below the machine. Our Carter Representatives can help you determine exactly what machine is best for you based on your needs.
Wheel Material Handlers
Cat MH3022
ENGINE: Cat C4.4
MAX. WEIGHT: 54,000 lbs
MAX. REACH: 33.8 ft
Cat MH3024
ENGINE: Cat C4.4
MAX. WEIGHT: 59,100 lbs
MAX. REACH: 39.4 ft
Cat MH3026
ENGINE: Cat C7.1
MAX. WEIGHT: 64,375 lbs
MAX. REACH: 42.7 ft
Cat MH3040
ENGINE: Cat C7.1
MAX. WEIGHT: 84,940 lbs
MAX. REACH: 50.8 ft
Track Material Handlers
Cat MH3250
ENGINE: Cat C9.3
MAX. WEIGHT: 107,700 lbs
MAX. REACH: 52.5 ft
Cat MH3260
ENGINE: Cat C13
MAX. WEIGHT: 133,200 lbs
MAX. REACH:59.1 ft
Learn more about each type of machine.
Wheel Material Handlers
Track Material Handlers