Carter University is offering free, weekly online customer education sessions to equip and enable you and your team with the tools and technology available through Carter Machinery.
These 30-minute live sessions will be hosted through a series of WebEx meetings by a Carter University instructor. Areas of focus will include, but are not limited to: learning about My.Cat.com, ordering through Parts.Cat.com, Preventive Maintenance options, and so much more!
We all have to work smarter, not just harder, these days and these open-enrollment, no-charge sessions will equip you to do just that! We look forward to seeing you at ShopTalk next Wednesday!
Your knowledge and class was excellent material. I greatly enjoyed expanding my educational awareness and have sold many filters over the years without understanding the full value of Cat filters in this way! Great Class and hats off to Carter University. I can use the information I learned today as talking points right away.

Paul Blizzard – Carter Machinery
Questions? Contact us at ShopTalkChannel@cartermachinery.com
Next Session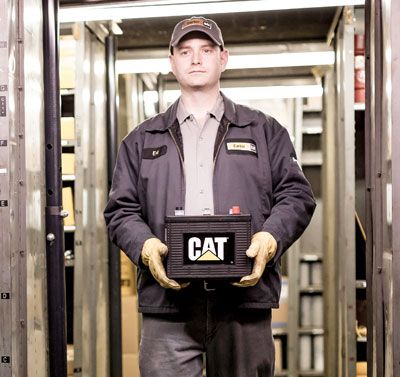 Wednesday, June 24, 2020:

Genuine Cat Parts: Batteries, maintaining reliability in hot weather
The reliability of your machine begins with the reliability of your battery. In this week's ShopTalk we'll give the ins and outs of Cat batteries and how to maintain their reliability so your equipment is jobsite ready for the summertime heat.
Attend any one of these free, open-enrollment sessions:
Note: Clicking "add to my calendar" will download a file. Double-click it and it will create a new calendar entry on your default calendar program.
---
Previous Sessions
Missed a previous session? No problem. We'll post recordings of the session here.
June 3rd: Daily Machine Inspections
Are you inspecting your equipment correctly? Performing daily machine inspections can help you spot potential dangers that can affect the safety of your operators and jobsite and keep costly repairs to a minimum.
May 27th: Parts.Cat.Com
Experience the fastest and easiest way to shop for Cat® parts from your computer or mobile device. View prices, check availability, compare specifications, ship to your desired location, and more with Parts.Cat.Com. Learn about this handy tool in this week's ShopTalk.
May 20th: Cat® Inspect
Cat® Inspect allows you to access your equipment data on your mobile device. In our ShopTalk this week, we'll show you how this easy-to-use app lets you capture inspection data and integrates it with your other Cat data systems, so you can keep a close eye on your fleet.
May 13th: Cat Genuine Filters: What's the difference?
What sets Cat genuine filters apart from the rest? Find out in this week's ShopTalk. You'll learn the differences and advantages of Cat filters and what they can do for the lifecycle of your machine.
May 6th: The Cat Rental Store App
Did you know you can manage your rental equipment without having to come into a Carter Machinery branch? Join Cameron Meisel, Carter Machinery's Rental Home Office Manager, as he previews The Cat Rental Store App. This efficient and convenient app allows you to locate available rental equipment, get pricing information to fit your budget, and manage live updates on-the-go, 24 hours a day, seven days a week.
April 29th: SOS Services (SOSWeb & Oil Lab Services)
This session focuses on what the fluids in your machine can tell you about the health of your equipment. Carter Machinery's Fluid Lab Supervisor, Mike Dudley, will break down this valuable and give an overview to some of the tools available to you.
April 22nd: Proactive Telematics Usage
In this ShopTalk session, Jason Threewitts, Digital Services Manager at Carter Machinery, shares his insights on how to harness telematics insights to manage your fleet more proactively in these rapidly changing times.
Per Jason, "We know many folks understand telematics and have at least started down the road of managing their fleet in a digital world so this won't be a 25-minute sales pitch on why connecting your fleet is a good idea. Rather, we'll talk about how a modern Equipment Manager can put this information to his/her advantage and stop constantly putting out fires or chasing shiny objects."
April 15th: Preventive Maintenance Basics
Preventive maintenance is the key to fleet uptime and longevity. In this session, learn exactly what it is, why you should do it, the importance of maintenance intervals and tips to help you along the way.
April 8th: Introduction to Parts.Cat.com
With Parts.Cat.com, all the genuine Cat parts you need are just a couple of clicks away. View prices, check availability, compare specifications and more. Watch the recast below or if you're ready to get started, download our PCC Reference.
April 1st: Introduction to My.Cat.com
If you're ready to get started using My.Cat.com, download our quick start reference.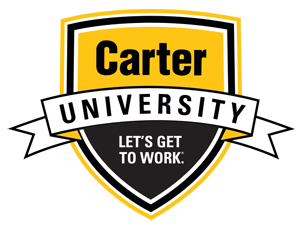 Carter Machinery, your partner in building a better world, and Caterpillar, the number one construction equipment company in the world, have partnered on an exciting training opportunity for our customers. Online, easy, convenient and cost-effective. And once you enroll you'll also have the opportunity to attend instructor-led training offered at various convenient locations.
Subscriptions last for 12-months and include hundreds of courses that can be accessed from anywhere on any device. For a limited time, each subscription also includes a curriculum on COVID-19 safety and health habits!
Contact Debbie Squires for more information about CarterU packages, pricing and subscription activation. Debbie_Squires@cartermachinery.com or call (804) 823-1213.