Moving your equipment from job to job safely is a critical function. Regardless of whether it's a skid steer or large track-type tractor, having the right trailer makes all the difference. Carter offers several brands to fit your particular needs.

Etnyre Equipment Trailers
Etnyre manufacturers trailers for a wide variety of applications. Their removable gooseneck models are available in both hydraulic and mechanical configurations. They also have trailers designed for equipment that requires specialized loading and hauling requirements such as pavers.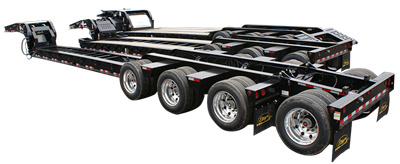 Trail King Equipment Trailers
Trail King has a trailer for virtually any hauling need; from goosenecks and tags to tilts and sliding tails. And with load capacities ranging from 6,000 to 1,000,000 pounds, virtually no application is out of reach.
Towmaster Equipment
Towmaster trailers have been developed and designed for the long haul. They have a reputation for quality, durability and aestheics. They have a full line of drop-deck, deck-over, hydraulic dump, hydraulic tail and even gooseneck models.