REPAIR NOW, REPAY LATER
Your machines are critical to your business's success. That's why we make it convenient and affordable for you to pay for new and remanufactured equipment parts and maintenance expenses using the Cat® Card. There's many benefits to using the card such as no annual fee, exclusive cardholder rewards, and low-rate financing. It's quick and easy to sign up, so apply today and start getting rewarded!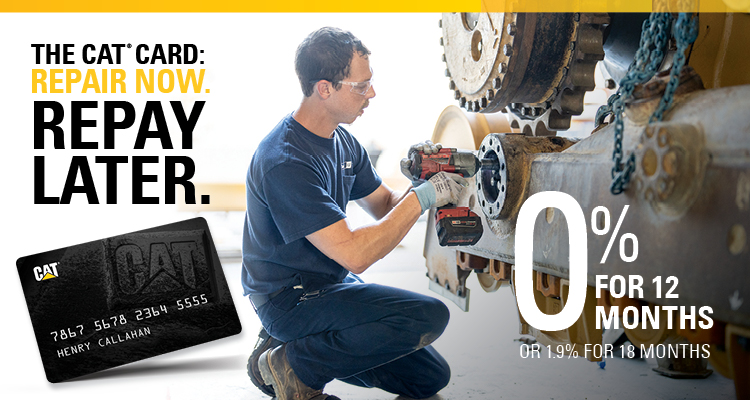 Benefits of the Cat Card Include:
No annual fee
Competitive rates and flexible payment terms
Unsecured financing – no lien required
Cat Vantage Rewards
Periodic promotional offers
Limited Time Offer on Undercarriage
Carter Machinery has special financing available as low as 0% for 24 months when you use your Cat Card to purchase undercarriage!
For additional details and finance terms, contact your Product Support Representative.
Cat Vantage Rewards Program
Qualifying Cat Card accountholders are automatically enrolled in Cat Vantage Rewards and will earn 1% back on all qualifying purchases when using your Cat Card. Whether you are paying for parts, service, rentals, engines, or work tools, the more you spend, the more rewards you'll earn. Want to earn points faster? Use your Cat Card to purchase parts parts on Parts.Cat.com or Cat Central and you'll earn 3% back! For full Cat Vantage Rewards details, check out the terms and conditions at cat.com/getrewarded.
Watch the videos below to learn more about the Cat Card.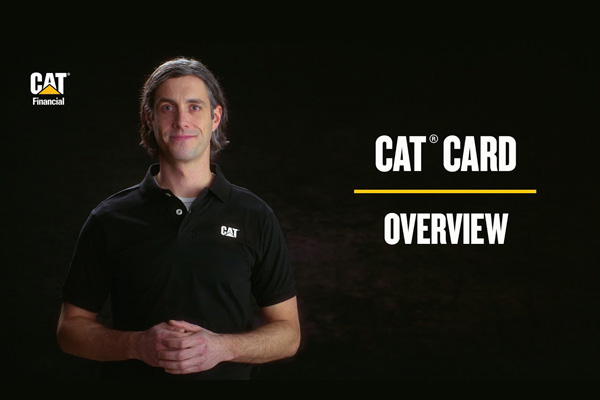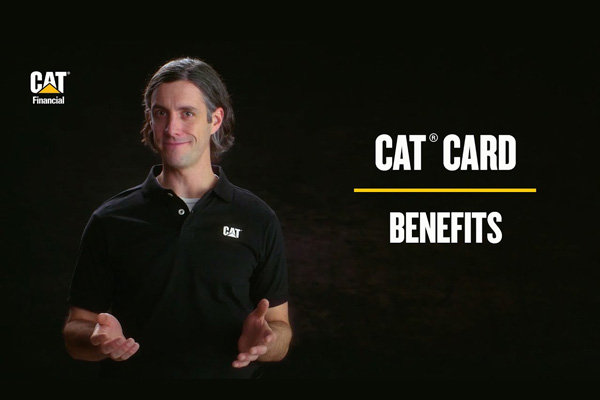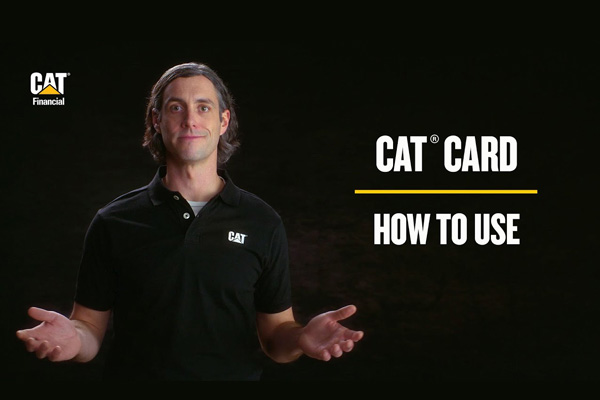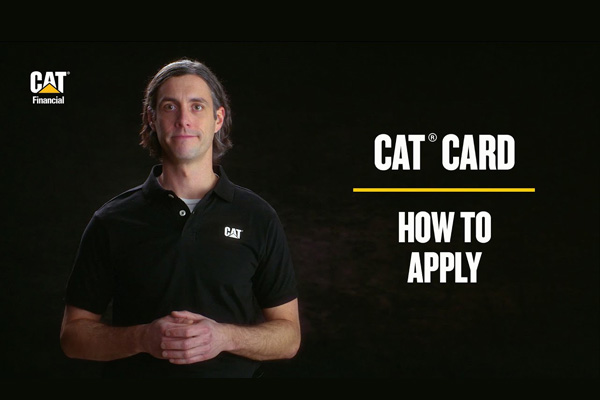 Frequently Asked Questions
Why am I receiving this new card?
You completed an application for a Cat® Card and have been approved at the credit limit noted in the accompanying letter.
What are the benefits of the Cat Card?
The new Cat Card from Cat Financial features no annual fee, special financing, flexible payment terms and special promotional offerings. Additional features like 1% Cat Vantage Rewards on all qualifying purchases, multiple users under one account, expense tracking by job, and service and support from a dedicated Cat Financial team mean the new Cat Card works as hard as you do (see cat.com/getrewarded for details and terms and conditions).
Where can I use my Cat Card?
Your Cat Card may be used at any Cat dealer location, Cat Rental Store location, on Cat Central or Parts.Cat.com.
What can I purchase with it?
Qualified purchases include parts, engines, components, work tools, generator sets, Customer Value Agreements, Equipment Protection Plans, Agco Equipment, agriculture implements, lift trucks, air compressors and all allied equipment.
Do I need to present the card each time I use it?
You need not have your card with you to use it. Your Cat dealer can look up your card number using your government-issued photo identification at time of purchase.
Can a CAT card have more than one authorized user?
Yes. Each authorized user from your company will receive a Cat Card with your company account number. Call our Customer Service team at the number on the back of your card (1-877-373-9510) to learn more about flexible control opportunities or to set up and make changes to controls on your new account.
*Offer is valid for qualifying new or reman parts, with or without service, for machine engine purchases of $500 or more at participating dealerships in the United States. Offer valid until December 31, 2023.