Russell
Apprentice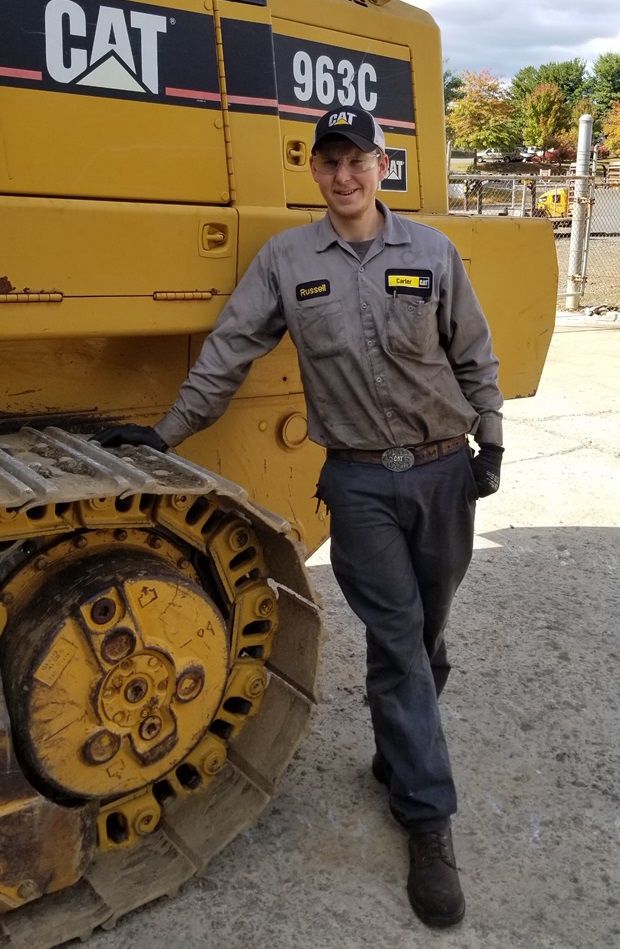 Russell has been with Carter's Apprenticeship Program a little over a year now, and is an excellent student and a great addition to the Warrenton team. He attended Universal Technical Institute (UTI) in Exton, Pennsylvania before coming to Carter. He is going to graduate from the program soon and loves rebuilding engines.
What made you choose to pursue a career as a Technician?
I always liked working with small engines; I was always messing around with vehicles and stuff growing up. My granddad has a track loader, and I would watch him, as he was always working on machines and I just thought it was so cool to see how they work and how they run.
What are you enjoying the most about your apprenticeship?
I think it's a great program; they're doing a good job. The classroom training is good and the hands-on training has been a lot of fun and I enjoy putting the knowledge I've gained from the classroom to work. I've learned a lot, and I've always said that if you have a good attitude then you can learn anything.
What are you finding the most challenging about your apprenticeship?
Figuring out all the machines and all that goes into building them, which is what I enjoy the most. I've worked on several machine rebuilds since I've joined the program, and I did a full rebuild on a 980 wheel loader myself. I was excited about it and want to do more of that kind of work.
What advice would you give to anyone considering applying for an apprenticeship program at Carter?
If I could do it all over again, I would come straight to Carter. I'm glad I went to UTI – I got a great education there – but here you can come and learn everything you need to learn and get paid at the same time. I learn something new every day and they're not afraid to put you to work here. I highly recommend this program to anyone interested in this field of work. They really care about you and genuinely want to help you learn.
What would you say about the support you are given as an apprentice?
I feel there is plenty of support. There is always someone around to help me or answer my questions. It's a real team atmosphere here. You never feel like it's all on you to figure it out.