What's Hiding in Your Tank
Fuel quality can be a key indicator of the overall health of your system. With today's advanced Tier 3 and Tier 4 compliant engines, the cleanliness of your fuel is more important than ever. Poor fuel quality can affect how your equipment performs – including abnormal wear of components, valves, valve guides, piston rings, and more. In addition, water and contaminants can destroy injectors and other components with fine tolerances.
So the question remains, what contaminants are hiding in your tank? Carter's variety of testing packages for both diesel and bio-blend fuels offer a cost effective way to assess the current condition of your fuel. Whether you require a basic test or a comprehensive report that meets governmental regulations, we have you covered. In addition to accurate reporting, our team provides actionable, expert analysis that you can count on.
To order your Fuel Analysis Kit, call 1-877-515-7262.
Fuel Analysis Packages
All levels include 24-hour access to fuel sample reports.
Vital Package
The Vital fuel test package is designed to be an economical introductory fuel kit that gives the bare essentials of your fuel condition. It answers the most common questions about your fuel, bacterial fungal contamination, water content, flash-point and particle count. Abnormal results in the Vital tests may indicate the need to run one of our other test packages to help pinpoint the problem so it can be corrected.
Emergency Package
Designed for speed, our Emergency Package is the fastest way to get the critical analysis you need. Our team will deliver your results one business day after receiving your samples. Whether you are preparing for a last-minute inspection or have a downed machine, we have you covered.
Basic Service
Basic Service provides an economical health assessment of your fuel tank. Quick, easy and accurate, Basic Service will let you know what's in your tank, and if there is any cause for concern. If you are curious about fuel maintenance or simply want to ensure your tanks are safe, Basic Service is right for you.
Advanced Service
Our Advanced Service is all about performance. We explain the environmental characteristics of your fuel and help you understand how to get the most from it. By conducting a thorough analysis and interpretation of your fuel, this service will help you take your fuel maintenance program to the next level.
Comprehensive Service
This is a complete, detailed analysis of your fuel. From health to performance to contamination, our Comprehensive Service covers it all with clear, meticulous documentation. Whether you need all-inclusive fuel reports for auditing purposes or simply want to make sure you have the most complete understanding of your tanks, this Comprehensive Service is the right choice for you.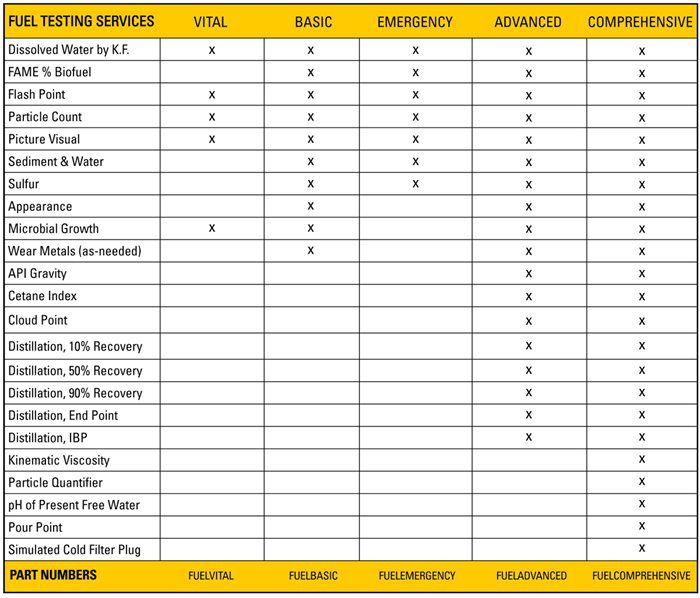 Helpful Resources