New Apprenticeship Program at Carter Machinery Now Available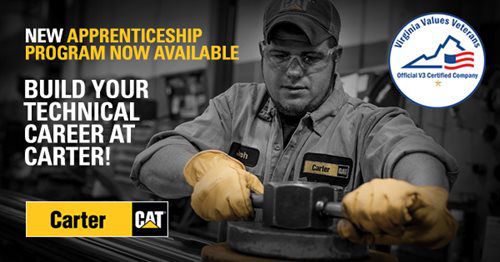 Salem, Virginia – Throughout its 90 year history, Carter Machinery has continually evolved to meet changing industry demands and customer needs. A critical part of the business where Carter differs from others in the industry is in the service department. However, a particularly difficult industry-wide challenge is finding technicians, specifically young people, who choose this important line of work for their career. In an effort to address this issue, Carter Machinery has launched a 15-month Construction Equipment Technician Apprenticeship Program, developed to help reverse this technician-shortage trend.
The apprenticeship, approved by Virginia's Department of Labor, provides candidates with a nationally recognized accreditation after successful completion, and serves as a recruiting tool in an increasingly competitive market. Equally exciting is the fact that Carter Machinery is one of the only companies offering this program. The training team at Carter is leveraging relationships through local Virginia vocational-technical schools to identify potential candidates in grades 11-12 to generate interest for both Carter and the skilled trades industry.
The first group of nearly 50 employees started in September of 2018, with classes in Salem and Richmond. "We knew there was a real need for this type of program to address the technician shortage problem," says Loraine Taylor, Corporate Development Manager for Carter Machinery. "Shortly after launching the classes last fall, we've seen a significant interest in the program, primarily since it allows people to learn a trade while earning a salary." Apprentice employees received 2,000 hours of on-the-job training and mentoring, and 400 hours of classroom and online instruction.
Applications for apprentice technicians will be accepted in March of 2019. If you or someone you know is interested in learning more, contact us at www.CarterMachinery.com/careers