Meet the New Cat® D5 Dozer
NEW NAME. SAME GREAT PERFORMANCE.
The new Cat D5 succeeds the renowned D6N with superior performance and technology.
Best-In-Class Performance.
Unprecented Technology Choices.
More Power to Work.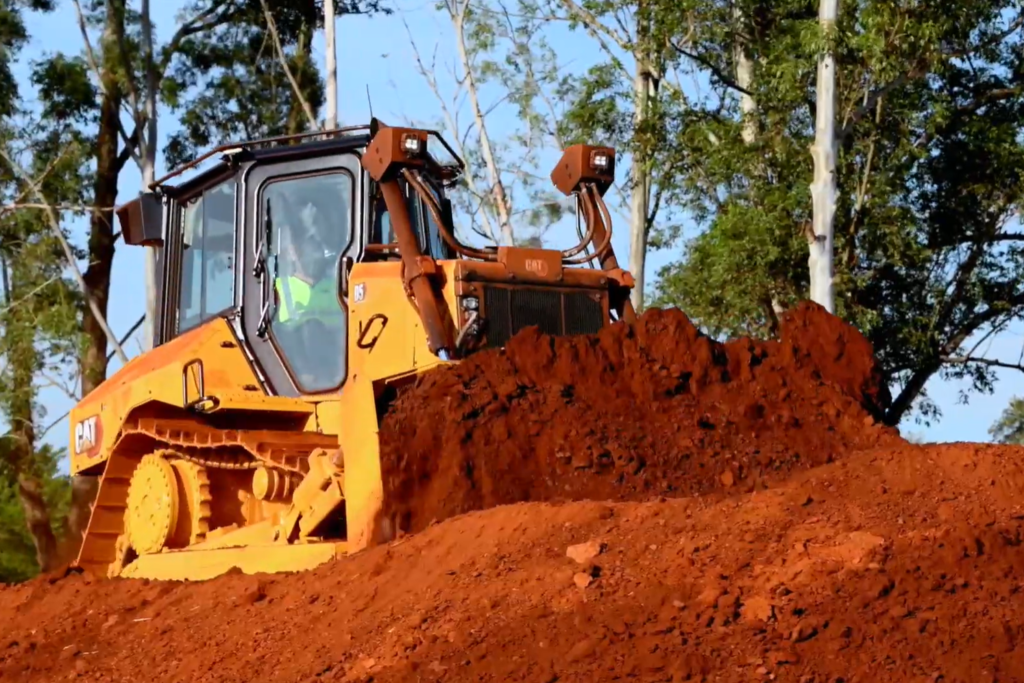 TECHNOLOGY BENEFITS
Cat Grade with Slope Assist™ automatically maintains operator's pre-established blade position without a GPS signal – no additional hardware or software needed.
Factory integrated Cat Grade with 3D uses GPS to control the blade so you can get to design plan faster.
Slope Indicate shows machine cross-slope and fore/aft orientation right on the main display to help operators with slope work.
Attachment Ready Option (ARO) comes from the factory with key sensors and wiring installed so you can easily upgrade to fully integrated grade control or blade mounted system.
Cat Command for Dozing provides a remote control solution for enhanced safety and greater productivity.
DESIGNED FOR OPERATORS
More glass area, steeper hood angle provide 30% better forward visibility than the previous model.
New 10-in (254 mm) touchscreen display with easy-to-use operator interface.
Standard High Definition rearview camera shows prominently in the main display.
Wider air suspension seat has multiple adjustments for personalized comfort.
Entire armrest adjusts forward and backward independent of the seat.
More storage spaces throughout the cab.
FEATURES AT A GLANCE
Next Generation Performance
Harness added weight and horsepower to take on a wide range of dozing and grading tasks.
Improved steering, tighter turning radius, quicker turns at the end of each pass help you finish jobs faster.
Fully automatic 3-speed transmission gives you seamless acceleration, faster cycle times and more nimble movement around the jobsite.
Long Term Value and Durability
Heavier, more robust machine helps increase uptime and reduce overall operating cost.
Hydraulic and electrical lines running to the blade are guarded for better protection.
More robust track roller frame gives you added durability to take on heavier work.
Heavy Duty Extended Life undercarriage – HDXL DuraLink™ – offers up to 20% more seal life in high impact conditions.
New Cat Abrasion undercarriage is your lowest cost-per-hour solution for high abrasion and low impact jobsites.
Lower Maintenance Costs
Up to 10% lower maintenance costs.
Easy access to maintenance points and a new ladder at the back of the machine save you time on daily tasks.
Reversible hydraulic demand fan helps remove debris while you work, saving cleanout and maintenance time.
Extended filter life and longer life LED lights help save you time and money.
Maximize Uptime
Product Link™ collects machine data that can be viewed online through web and mobile applications.
Access information anytime, anywhere with VisionLink®
Remote Troubleshoot saves time and money by allowing your Cat dealer to perform diagnostic testing remotely.*
Remote Flash updates on-board software without a technician being present.
360 Machine View
360 Cab View
Watch the new Cat D5 Dozer in action!