8 Farm Uses For A Skid Steer Loader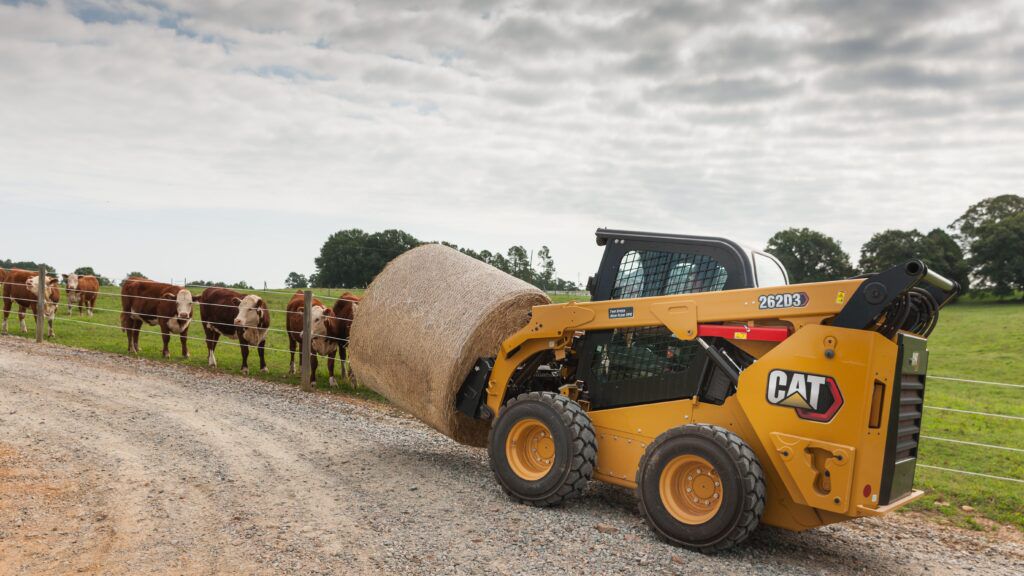 Skid steers have countless abilities, functions, and attachments for agricultural applications. While they are most often employed to load and move dirt, debris, and other material, their functions are almost limitless when completing daily and annual jobs on farms.
To give you an idea of how many applications skid steers have for farm use, we dive into eight essential uses.
1) Variety of Attachments
Consider this list of attachments that you can use with a Cat® skid steer loader to supercharge your productivity:
Mowers
Grapples
Seeders
Grading
Pallet forks
Brush cutters
Feed buckets
Spear carriers
Bale handlers
Manure scrapers, and more.
2) Fence Building
With a Cat skid steer, you can:
Remove old posts
Clear wire
Dig corners
Install post holes
Drive t-posts
Shape water gaps
Clear brush
Every one of these activities might have required its own tool and process in the past, but with a skid steer, you no longer need to keep all this equipment and agricultural machinery. You can complete every job needed for a fence with this profoundly flexible machine.
3) Hay Handling & Feed Management
Faster than a tractor and far more robust, a skid steer of the proper size can load and unload hay as well as feed hay to livestock.
Use your skid steer to complete all the jobs you need to keep your livestock fed and even handle pallets of minerals. For example, you can:
Mix and deliver rations,
Handle pallets of minerals, and
Deliver and disperse feed.
4) Scraping & Cleaning
When you use a skid steer with the right attachments, you can easily scrape pens, clean feeding areas in the spring, load, and spread manure easily. It's a good investment for your pens, livestock, and crops all in one tool.
5) Road Maintenance
Many farmers and agricultural professionals use skid steers to spread gravel, fix holes, repair drainage, and push snow when necessary. There's no longer a need for special machines to complete these jobs when you purchase Cat attachments to add new abilities to your skid steer machine.
6) Brush Clearing
Brush clearing—much like road maintenance, manure management, and other jobs—was once a job that demanded a unique machine to complete correctly. Nevertheless, a skid steer can be outfitted to prepare fireguards, remove small brush, and trim trees with shears.
7) Water Installation
Within water installation, you can use a skid steer to:
Establish trench lines
Install tanks
Excavate break
Add rock to water points
It makes the management and direction of water easier while avoiding investing in additional agricultural machinery for these applications.
8) Construction
For construction projects on your farm, you can level and grade building sites with a good-sized skid steer. Meanwhile, during building, you can use your skid steer to handle and transport all the needed materials to complete the project.
Purchasing A Skid Steer For Your Farm
Carter Machinery promises that you always get the support and service you need to keep your machinery running at optimal performance. Moreover, they have industry expertise and innovative technologies that can solve unique agricultural land management challenges.
When you purchase these machines, for example, through Carter Machinery, you can save up to $5,000 on your purchase if you're a member or attendee of any of the following organizations:
Also, you can save $250 on qualifying Cat attachments. Contact Carter Machinery to learn more about how to choose a skid steer and save.