Service Technicians
Seeking People Who Are Seeking Great Technician Jobs
In today's world of advanced electronics and specialized systems, technicians are much more than mechanics who know how to turn a wrench. Our technicians – the face and foundation of Carter Machinery – have enormous earning potential for their ability to work expertly on dozers, generators, marine engines, and more.
When you join Carter, you're joining the largest service team in Virginia, West Virginia, Maryland, Delaware, and Washington D.C. We employ more than 1,300 technicians – more than the competition combined. Our 17,000-square-foot reconditioning facility is one of the top of its kind in the world, devoted exclusively to refurbishing engines, transmissions, torque converters, undercarriage, powertrain, hydraulics, and other specialized systems and components.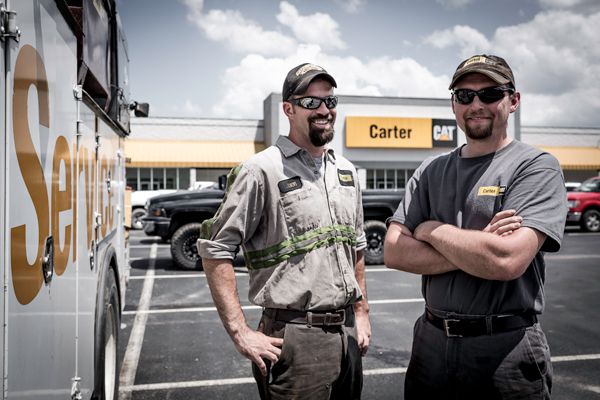 Carter is always in need of the skills and talent of knowledgeable technicians
We look for those with drive to continue their education to meet the growing demands of the industries we serve
Carter offers the safest practices and best training available to advance careers
Carter's latest technology puts you at the leading edge of the industry
Types of Carter Technicians
Shop Service – Many technicians have started their careers in our shops, where we see jobs ranging from general maintenance to major repairs.
Field Service – These technicians take the parts, tools, and know-how needed to do jobs on equipment that can't be brought into our shops, due to sheer size or location.
Rebuild/Remanufacture – Techs in our remanufacturing facility in Salem, VA specialize in jobs such as overhaul, reassembly, and testing, giving new life to worn-out equipment.
EPG (Electric Power Generation) – These jobs involve mechanical and electrical service of the engine/generator package as well as performing electrical repairs on associated components of the power distribution system such as transfer switches, breakers, relays, switchgear, etc.
Hydraulic – We have a saying: "If it uses hydraulic fluid, we fix it!" No small claim when you think about how many different types of equipment and systems use hydraulics these days. But with our 5 rebuild centers strategically placed around our territory, we back it up.
Machining/Welding/Fabrication – This group of technicians is known for their ability to salvage components, even if it's something out of the ordinary. Need a new cylinder head for a 1934 Packard? We've got you covered.
Carter University: Technician Training
Our team of certified Training Instructors provides world-class continued training and education throughout your career, through innovative online courses to instructor-led classes.
Career development plans
Safety and on-boarding
Learning and development tools for continued self-development.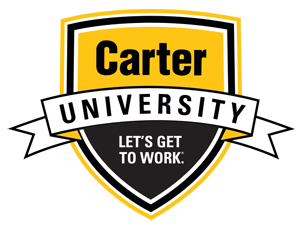 Apprenticeship Program
Are you graduating from high school or exiting the military and looking for a career utilizing your strong mechanical aptitude? Carter's apprenticeship program may be just the opportunity for you. Our training and development program gets you on the fast track to a rewarding career as a construction equipment technician. While you're receiving education, Carter apprentices get paid and receive full-time benefits – all without incurring education expenses. In just 15 months, you can become a certified technician.
Are You a Student or Making a Career Change?
There's no substitute for a strong foundation. We recruit from a number of technical schools that provide thorough training curriculums designed to get you off to the right start.
ATI (Advanced Technology Institute)
Lincoln College of Technology (formerly Nashville Auto Diesel College)
Ohio Technical College
Rappahannock Community College – Bridging Communities
Southside Virginia Community College
Tidewater Community College
UNOH (University of Northwestern Ohio)
UTI (Universal Technical Institute)