Steve
Field Technician (45 Years)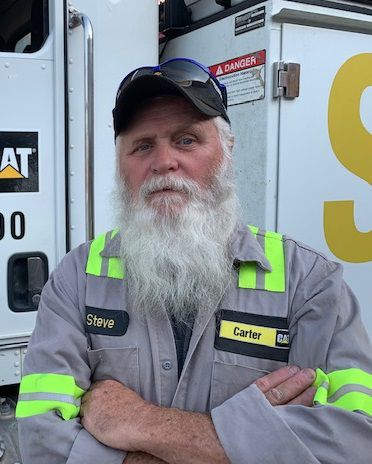 Explain your path to your current job.
I was working part-time as a welder for another company when Carter came calling, looking for welders. I began my Carter career as a welder and then moved into field service work, which I've been doing for the last 20 years.
Why did you want to come work for Carter?
I knew about Carter as a little kid. I grew up in this area and would always see the sign out in front of the building here. I knew it was a company that had been here forever and seemed like a stable place. That's what I was looking for.
Were you always mechanically inclined?
Yes. I was always working on my vehicles around the house. I also farm part-time, so there is always farm equipment to work on.
Where did you learn the trade?
I learned how to weld on the job when I was hired at Huddleston Welding near Shafer's Crossing here in town.
What do you like about where you work/what you do?
I love the freedom of the job. You meet people and see things that you would not get to experience in the shop. The work is hard, and the hours are sometimes long, and you're out in the elements, but it's never monotonous. Each day is different and you could be anywhere, any day of the week. It's always changing.
Did you feel like you are supported in your career path here? How/why?
Yes, Carter has always supported me through the years. Now, as I battle cancer, they've been amazing to me. When I was diagnosed, they told me to take care of what I needed to take care of – my job and my truck would be here when I was ready to come back. That support has meant the world to me.
We are known for enabling every customer to achieve their highest level of success – do you believe that's true? Why?
Absolutely. We go above and beyond for our customers – many of them come back to Carter because of our service and the manpower that helps them succeed. We always seem to get those customers to call us.
Would you recommend someone who is interested in being a technician to come to work here at Carter? Why?
Absolutely. Carter has been really good to me.