Ryan
Shop Technician (2 Years)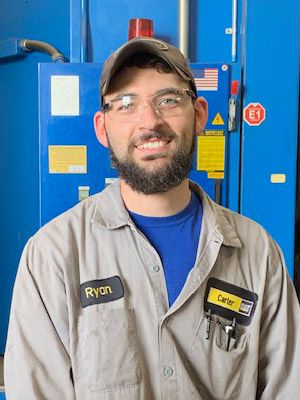 Explain your path to your current job.
I started in assembly, where I would build about every small component they had over there. I now work in hydraulics, where I get to work on large transmissions, brakes – you name it.
What skills have you acquired that help you perform effectively in your current position?
One of the things I've learned over the past several years is failure diagnostics, where we use devices to adjust, test, and repair equipment. I've also gotten better with figuring out how all the various pieces of the large transmissions fit together and how the engines run. It's really cool stuff.
Were you always mechanically inclined?
Growing up, I'd always watch my grandfather work on cars, but I didn't get to do anything hands-on. I would sit there and watch him, listen to his stories – we are really close. Now that he's older, he doesn't do much of the tinkering – he watches me do it.
Where did you learn the trade and/or where did you go to school?
I attended Universal Technical Institute (UTI) in Pennsylvania. I'm from Christiansburg, but I heard it was a good college if you wanted to go into this line of work, so I toured it and liked it. After getting my degree, I applied to Carter. A couple of days before graduation, I got the call that I got the job. I was sweating bullets until they called. I heard some great things about the company and wanted to work here.
Do you feel like you have to have experience coming here to work?
No, but it does help. However, if I had known about the Apprenticeship Program, I would have done that instead of going to UTI. It would have saved me a lot of money. We train and pay those apprentices, so it's really the way to go.
What do you like about where you work/what you do?
I am learning new things every day. And no two days are alike. Every day I'm working on something new, and there's always something new to learn.
What are your career goals?
I'm not sure yet, maybe the tractor shop, or management, after 20 years or so. Right now it's just too early to know, but I like where I am. I get a lot of satisfaction knowing that I'm building and putting together parts that run after I put them together – there's real satisfaction in that kind of work.
Tell us about the work environment here – are people helpful in solving problems?
Absolutely, they're always willing to work on an issue. If you don't know something, they'll help you figure it out. There are super nice people here.
What do you like most about your job?
The challenge. There is always something to figure out.
What's something you like to do in your spare time?
I'm a woodworker. I find it relaxing. My dad and I make pens, bowls, all sorts of things out of wood. Ever since shop class in middle school, I've been interested in making things out of wood. I've always enjoyed working with my hands.