Mike
Technician (13 Years)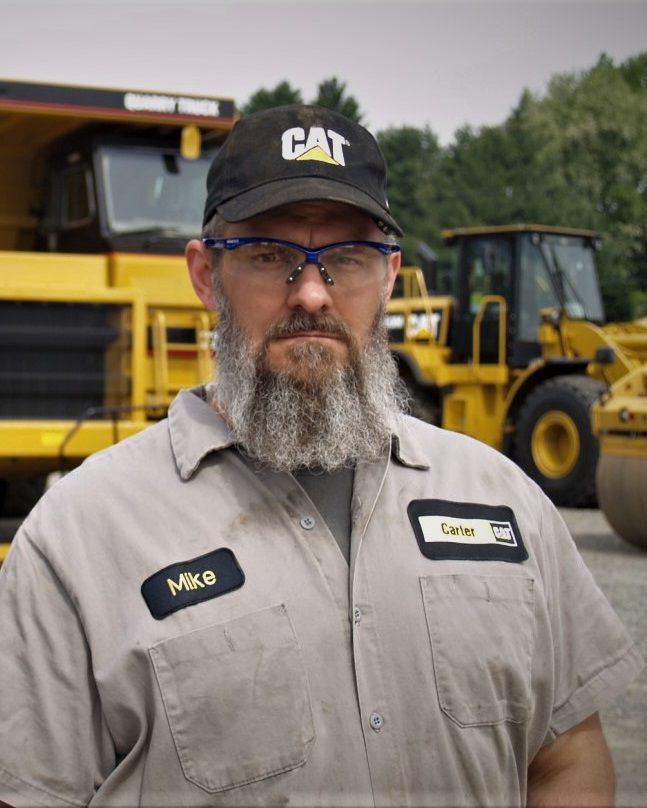 Why did you want to come work for Carter?
My granddad worked here as a field technician and I knew it was a great place to work.
How did you hear about Carter?
I knew about the company from being from the area and having a family member who worked here.
Were you always mechanically inclined?
Yes. I was always around cars and trucks growing up. Dad always had trucks and motorcycles that he would be working on. When he was fixing them he would show me what he was doing and have me help him get them up and running again. Together, we were always working on something mechanical.
Where did you learn the trade?
While I had some experience in the Air Force, I mainly learned while on the job here at Carter. I've also kept up with my training by taking classes whenever I could. I always jump at the chance to take classes to keep up with the latest technology. That's what makes this job great – it is always changing and challenging me to learn and grow. The learning never stops here.
Where did you go to school?
I got really interested in airplanes so I attended Spartan College of Aeronautics and Technology in Tulsa, Oklahoma. I got my Associate's degree in Aircraft Maintenance. After that, I went into the Air Force and stayed there for 9 years before coming back home to be with my family.
Do you have to have experience coming here to work?
Most of my experience came from on-the-job training. If you have little experience or no experience, someone will help teach you what you need to know here at Carter. We have a great Apprenticeship program for high school graduates looking to learn a trade while earning a salary. We teach them how to work on these machines and we mentor them through the program. That's how I learned, the old timers would show me how to do things.
What do you like about where you work/what you do?
I enjoy learning about the new technology that comes with each new machine. Seeing how everything works, troubleshooting a problem, and then getting it to work properly again – that's really satisfying to me. I also enjoy the rebuilds we do. Sometimes after we work on a machine, take it apart, and put brand new parts in it, it's a brand new machine. We literally give it a second life. Seeing the customers' reaction when they come in to pick it up is pretty cool too. When they come in and are really appreciative of the work you did for them – that makes you feel really good. Just a quick "Hey, I really appreciate your work on my machine" goes a long way.
Describe your career path here at Carter – Where did you start compared to current position?
I worked in the shop for nine years until a position came open in the Technology Department. I trained people on ProductLink and United Fleet. I did that for a couple of years until I decided to come back here to the shop to work as a technician again.
Did you feel like you are supported in your career path here? How/why?
Yes, however I know that my body will only be able to do this for work so long, so I hope to eventually move into another position. I feel like when that time comes, Carter will support me and help me get to the next level.
Tell us about the work environment here – are people helpful in solving problems?
We're always looking out for each other. We're constantly looking around to see if anyone needs a hand. If someone is having trouble on a machine, there is always someone willing to help troubleshoot it with them. We're also constantly checking on the safety of others, making sure we're approaching each job the safest way possible.
We are known for enabling every customer to achieve their highest level of success – do you believe that's true? Why?
Yes, I feel that if they're succeeding, we're succeeding. Carter has always been focused on the customer, and not just the big companies. We know that many times, it's the guy who owns a small business with one machine and if we have it, he's not working. We get their machine fixed up and cleaned as quickly as we can to keep them moving. They say, "I appreciate what you do for us, we know that we're getting proper care, the machine is clean." We take care of the customer no matter what. We don't spend the money for them, we tell them if they have something wrong but don't do the work until we let them know to make sure they're comfortable with it.
Would you recommend someone who is interested in being a technician to come to work here at Carter? Why?
Definitely – it's great pay, great benefits – even if you come in with no previous experience or are coming in straight from a diesel college – we're going to help you learn what you need to know and help you out.