Lucas
Field Service Technician (11 Years)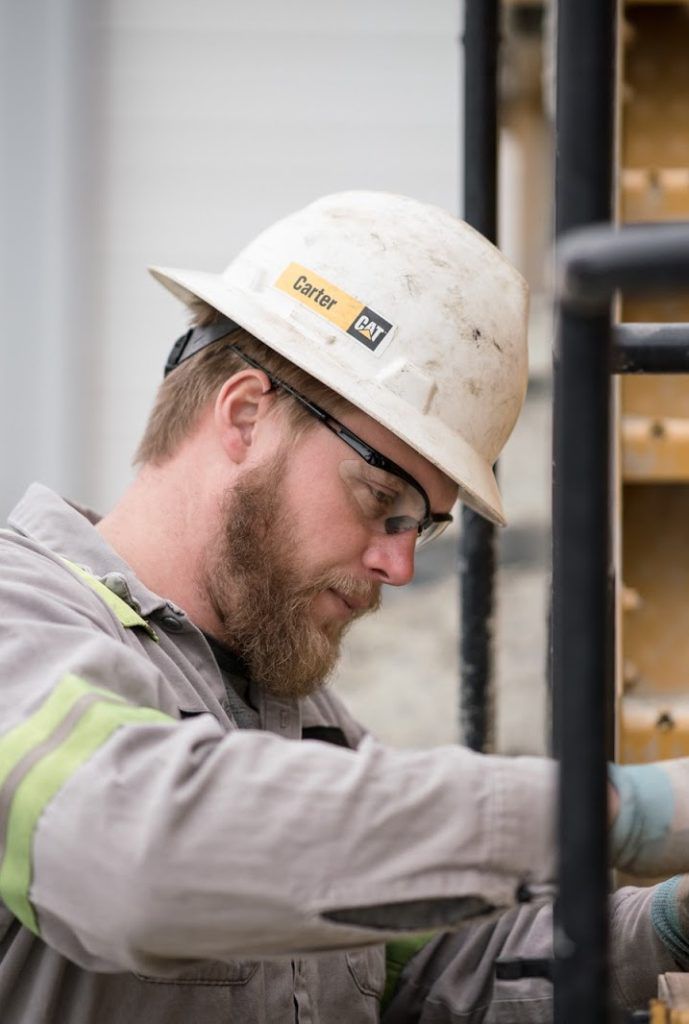 How long have you been with Carter?
11 years. I started in high school doing some part-time summer work.
Explain your path to your career here at Carter.
I started working here in the summers between my junior and senior years in high school. I did maintenance work at the Oakwood store as a temporary employee, doing various jobs around the store, helping organize parts for the store manager. I then started working in the warehouse. After high school, I went off to college and attended Nashville Auto Diesel College. After college, I came back to Carter for three years before moving back to Tennessee to be with my wife. When she wanted to return to Oakwood, we moved back and I got a job with Carter. I was transferred in 2013 to Richmond and I've been here ever since. I am currently a Field Technician in the Richmond area.
What skills have you acquired that help you perform effectively in your current position?
Going to the Diesel College definitely gave me a jumpstart to my career. To perfect the trade, you get that opportunity during on-the-job training.
What's a typical day like?
There is no typical day, and that's what I like about it. You're out trying to fix things and the issues you come across are always different. It may be a hydraulic issue for one customer, a welding job for another. It is not monotonous, and that's what I love about it.
Why did you want to come work for Carter?
My father worked for Carter as a Field Technician and I saw the stability Carter provided for our family. We knew he had a job no matter what – steady hours, regular vacation time, a real work/life balance and that's what I wanted for my family.
Were you always mechanically inclined?
My dad didn't hunt or fish – instead we tinkered around with anything mechanical. He often would build and restore classic cars and I would help him. He taught me how to fix anything from dump trucks, 4-wheelers, classic cars, race cars, and really anything with a motor. There was always something around that needed fixing.
Do you feel like you have to have experience coming here to work?
Before the Apprenticeship Program came along, I would have said yes, you need some type of experience to work here. However, now with this program, it really is the best route to go.
What do you like best about where you work/what you do?
I love being outside and the freedom of the job.  It's almost like running my own business. I have my own set of customers, and many times they contact me directly if they need help. I love the variety of what I do each day. I have a group of customers that like me, and trust me, and contact me directly. They know when they call me I'll be there and will do everything to get them up and running as soon as possible. 
What are your career goals?
At some point, I'd like to become a Technical Communicator or Product Support Rep.
Do you feel like you are supported in your career path here?
Yes, Carter has really provided me with the training I needed to continuously get better in my current job, but also I feel like my supervisors do care about what I want to do in the future. We've talked about it in my yearly review and they have always supported me in my aspirations.
We are known for enabling every customer to achieve their highest level of success – do you believe that's true?
Absolutely. We have a great team, we all work together to make things happen. Many times I've made calls to the Bluefield shop to get a tool, and they've overnighted it to me. We all go above and beyond to make the customer happy.
Would you recommend someone who is interested in being a technician to come to work here at Carter? If so, why?
I truly believe that this is the best there is – I've worked many other places, and trust me, the grass isn't always greener. The pay is good, the benefits are the best around, and the structure is great. You know what to expect here and what's expected of you. We get yearly reviews, there are plans in place where you can ask for vacation, it's the total package. I really think it's as good as it gets in this line of work.
What are your hobbies when you're not working at Carter?
I love to drag race. I've been doing it for years and someday I would love to attend HOT ROD Drag Week, which consists of five race tracks in 7 days. It's definitely on my bucket list.