Gary
Shop Technician (32 Years)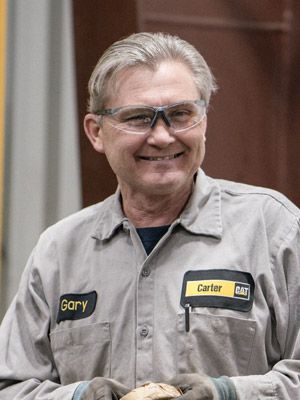 What do you do here at Carter?
I do a lot of the rebuilds here, transmissions, torque converters, once in a while I'll do steering clutches. Every day is something different.
Explain your path to your current job?
I graduated from Patrick Henry High School. I went to work for a heating and air conditioning company for a year. Then a job at a local grocery store opened up and I took it and worked as a Produce Manager for several years, however, that grocery store went under and I had to look for another job. I saw an ad for a job in the warehouse here at Carter and I applied. I was hired and ended up working in the Warehouse for about 6 or 7 years before moving over here doing rebuilds where I've stayed ever since.
Were you always mechanically inclined?
Growing up, I was always working on my car, my lawnmower, things like that. I guess you could say I had an aptitude for the work; I find that it all makes sense to me.
What do you like about where you work/what you do?
You're building something from nothing. At the beginning of the day, all you have are just a bunch of parts. What I enjoy is figuring out how they all go together. And then, when they run – that's very satisfying.
You have been here for 32 years, why have you stayed on so long here?
Well, I love the work, and it fits in with my life better than any other job I've had. The benefits are good, it's good pay, and it's a stable job. I couldn't want anything more.
Did you feel like you are supported in your career path here?
Yes. When I came over here, I didn't have any experience in rebuilds. But I wanted a challenge, and they were willing to work with me. They trained me on the job and I am very thankful that they believed in me enough to invest the time.
Tell us about the work environment.
It's a good environment. We all get along; people are willing to help you out. If you're stuck and can't figure something out, there is always someone around who will troubleshoot it with you. It's real teamwork.
What are some of your hobbies outside of work?
Woodworking – I love creating things from nothing. I'm also a handyman. There's always something around the home I'm working on.