6040 Hydraulic Mining Shovel
The Cat® 6040 Hydraulic Mining Shovel is trusted on sites around the world — consistently delivering the productivity you demand with the durability you expect. This proven shovel is known for top performance and high reliability, backed by the on-the-ground support of the Cat dealer network.

But we're always looking for ways to make the 6040 better. We've made improvements that enable peak production — delivering fast cycle times and high digging forces. We've increased uptime by making the 6040 more reliable and easier to service. And it's now available for both highly regulated and lesser regulated countries with engines that meet U.S. EPA Tier 4 Final/EU Stage V standards without the need for DEF — saving time and cost during maintenance.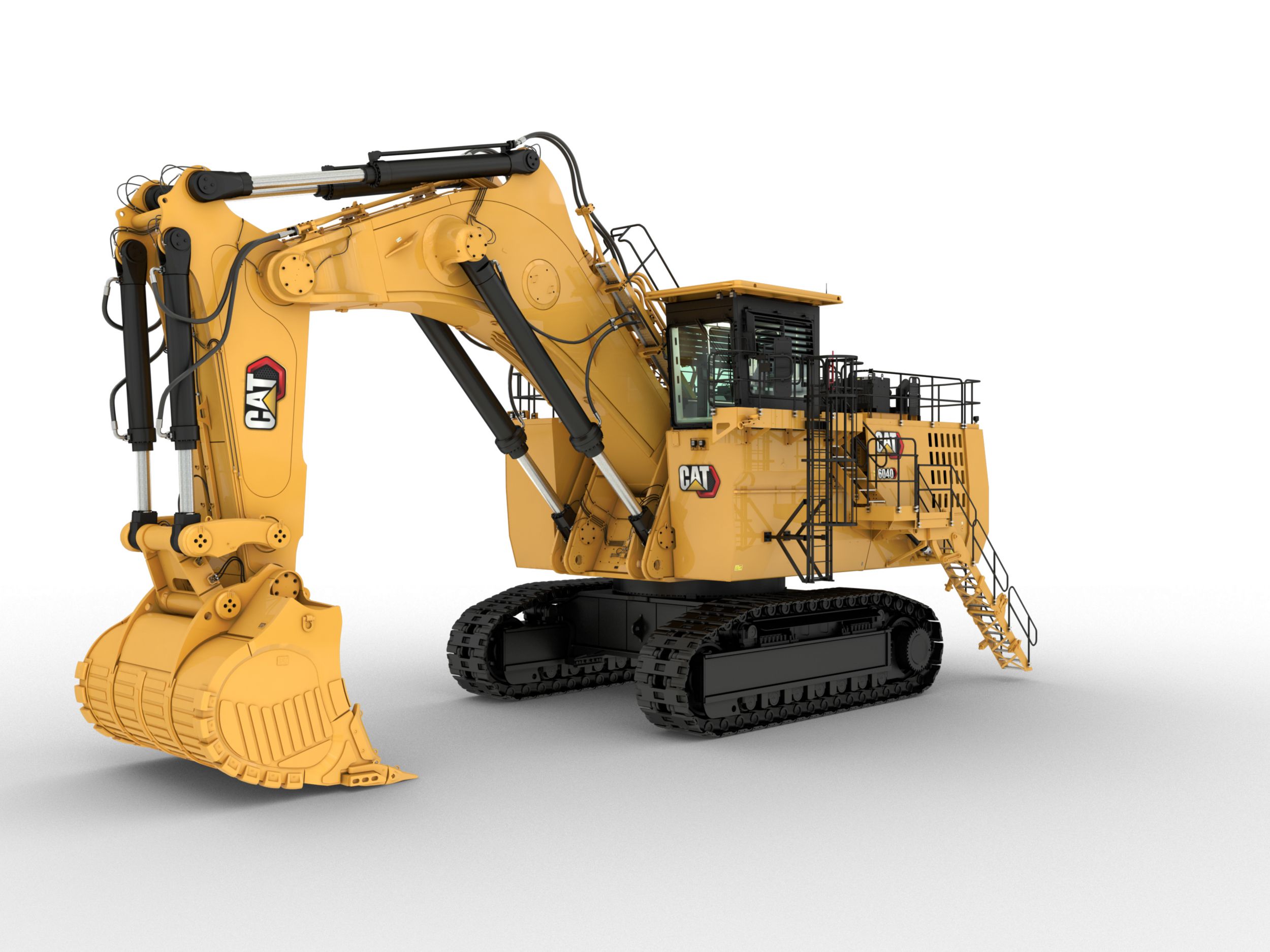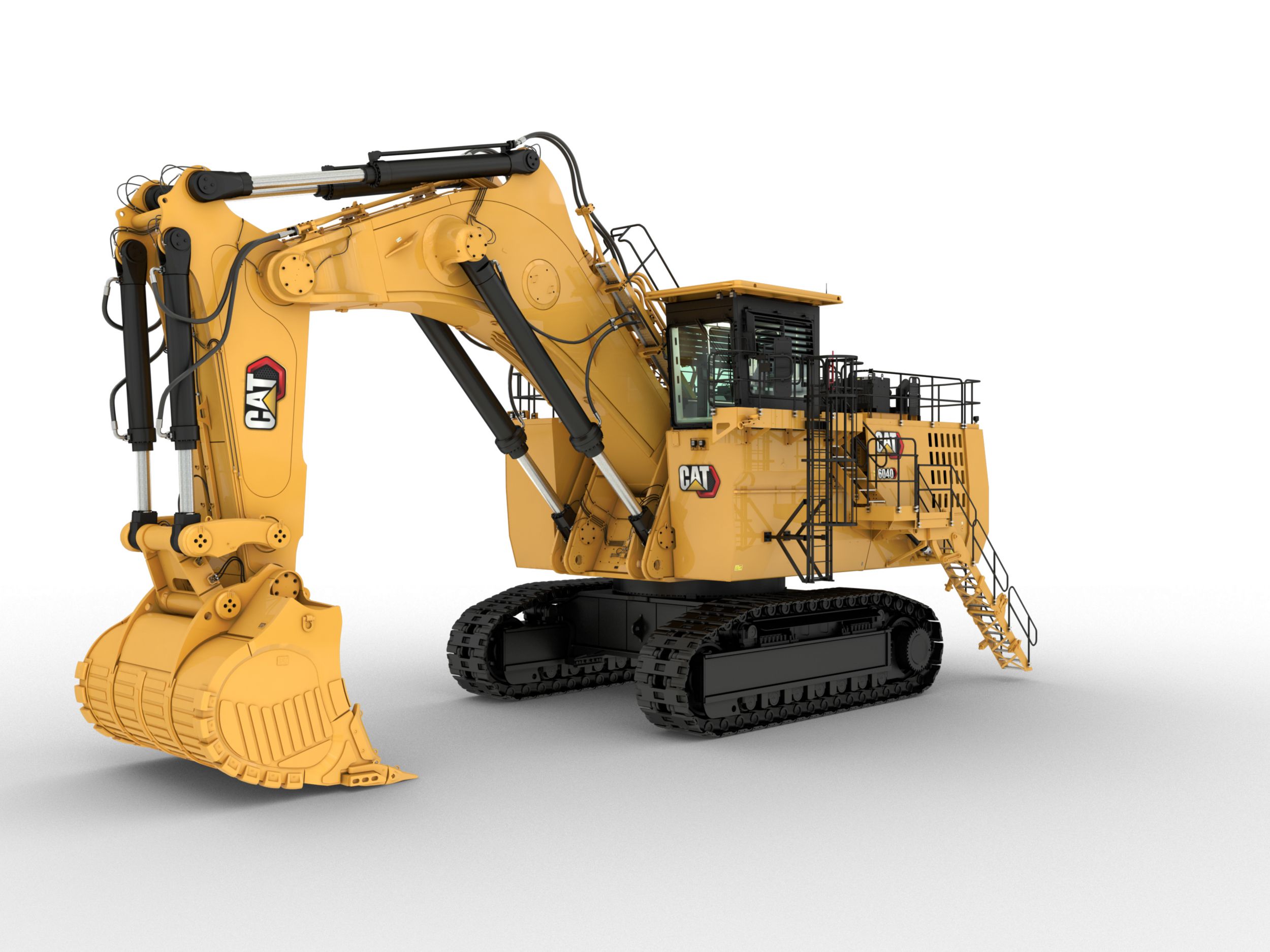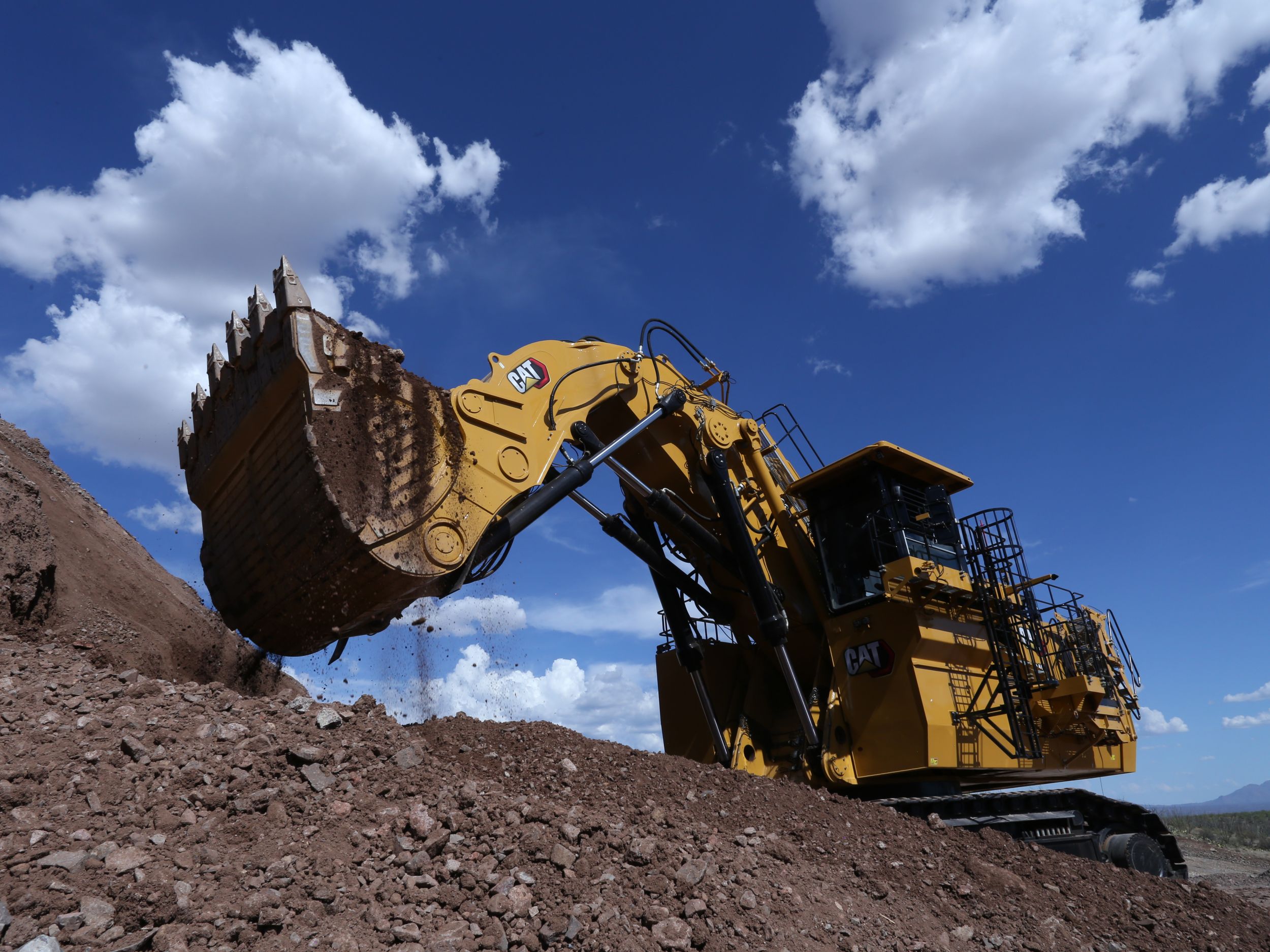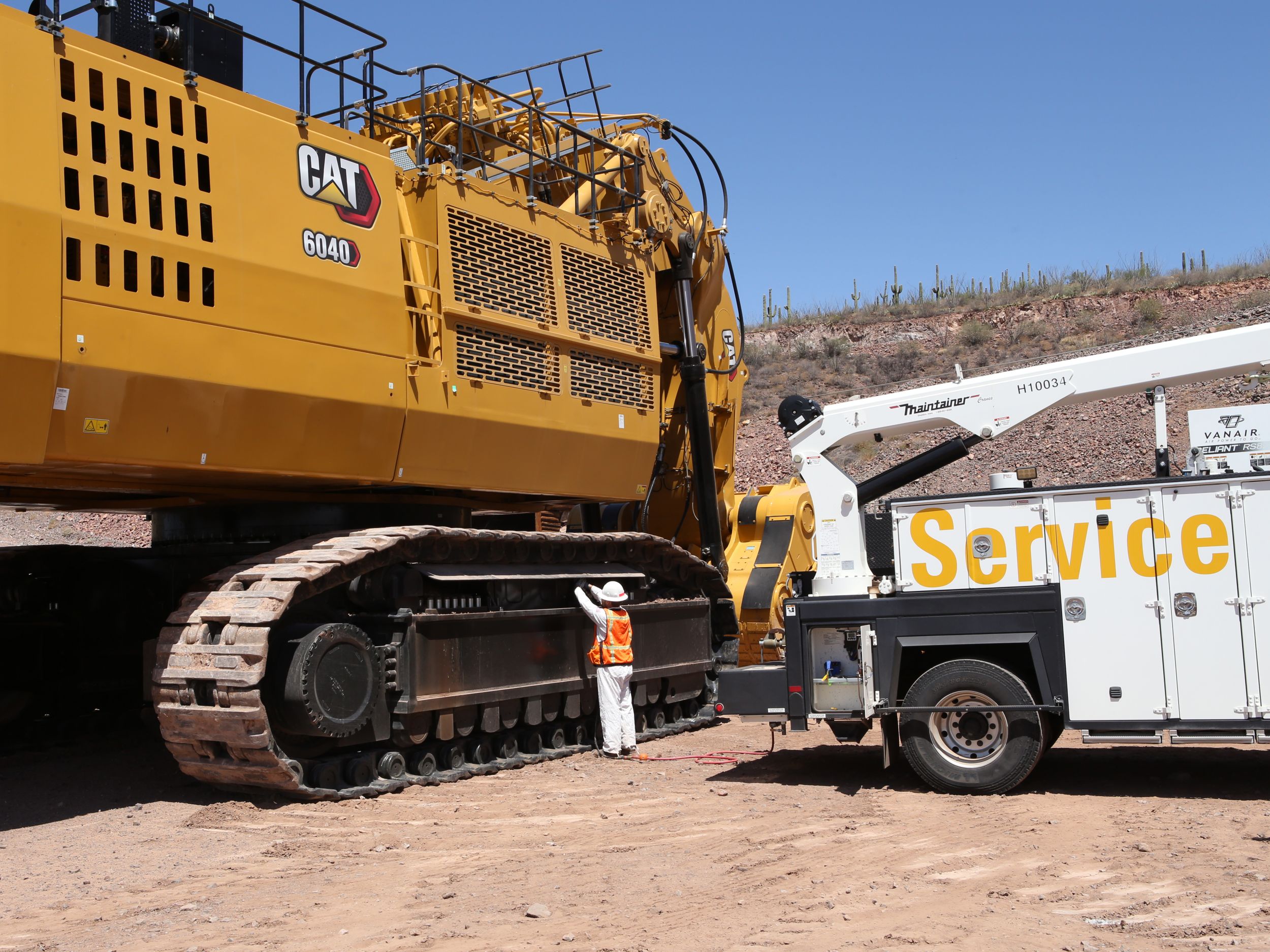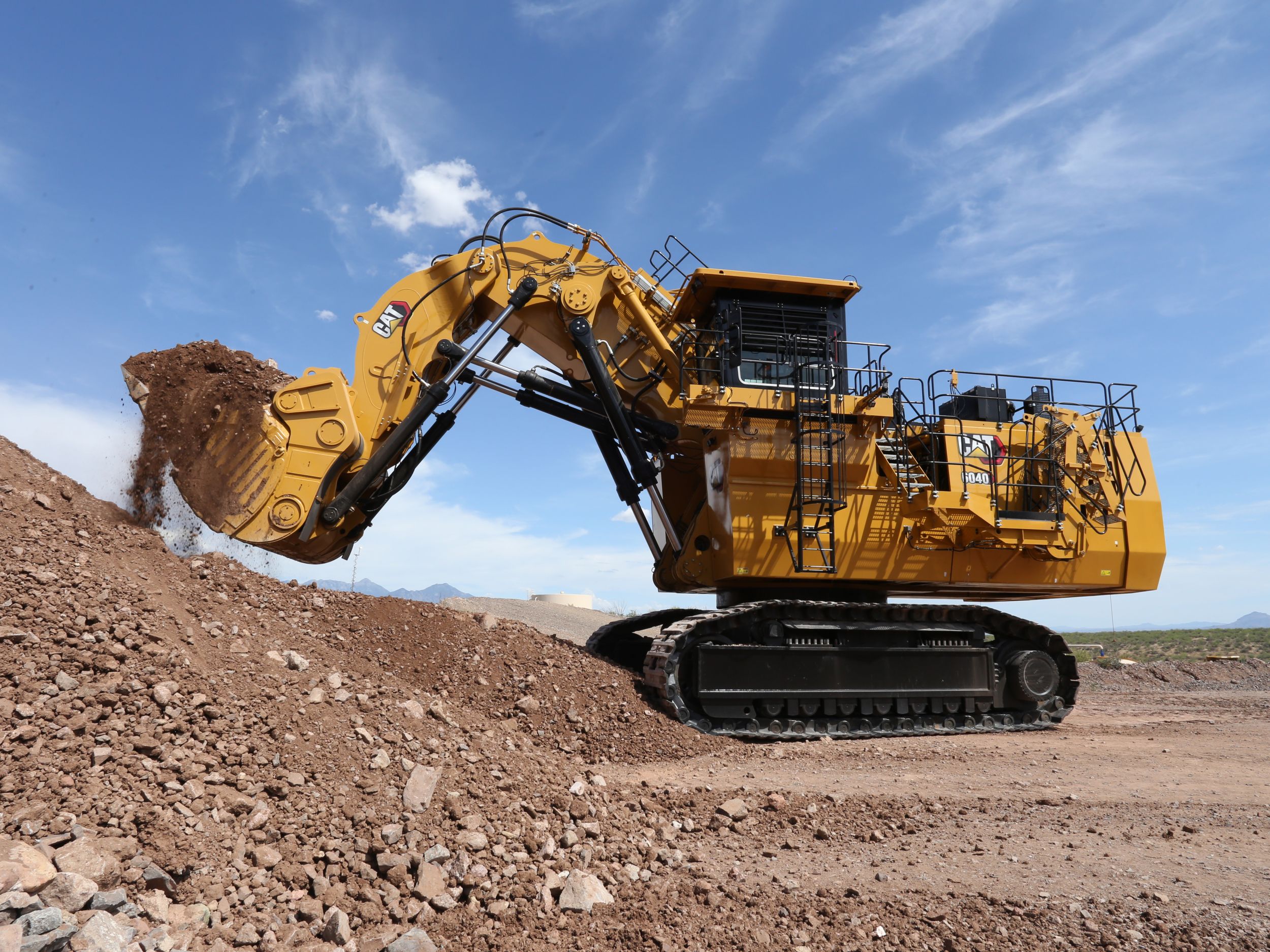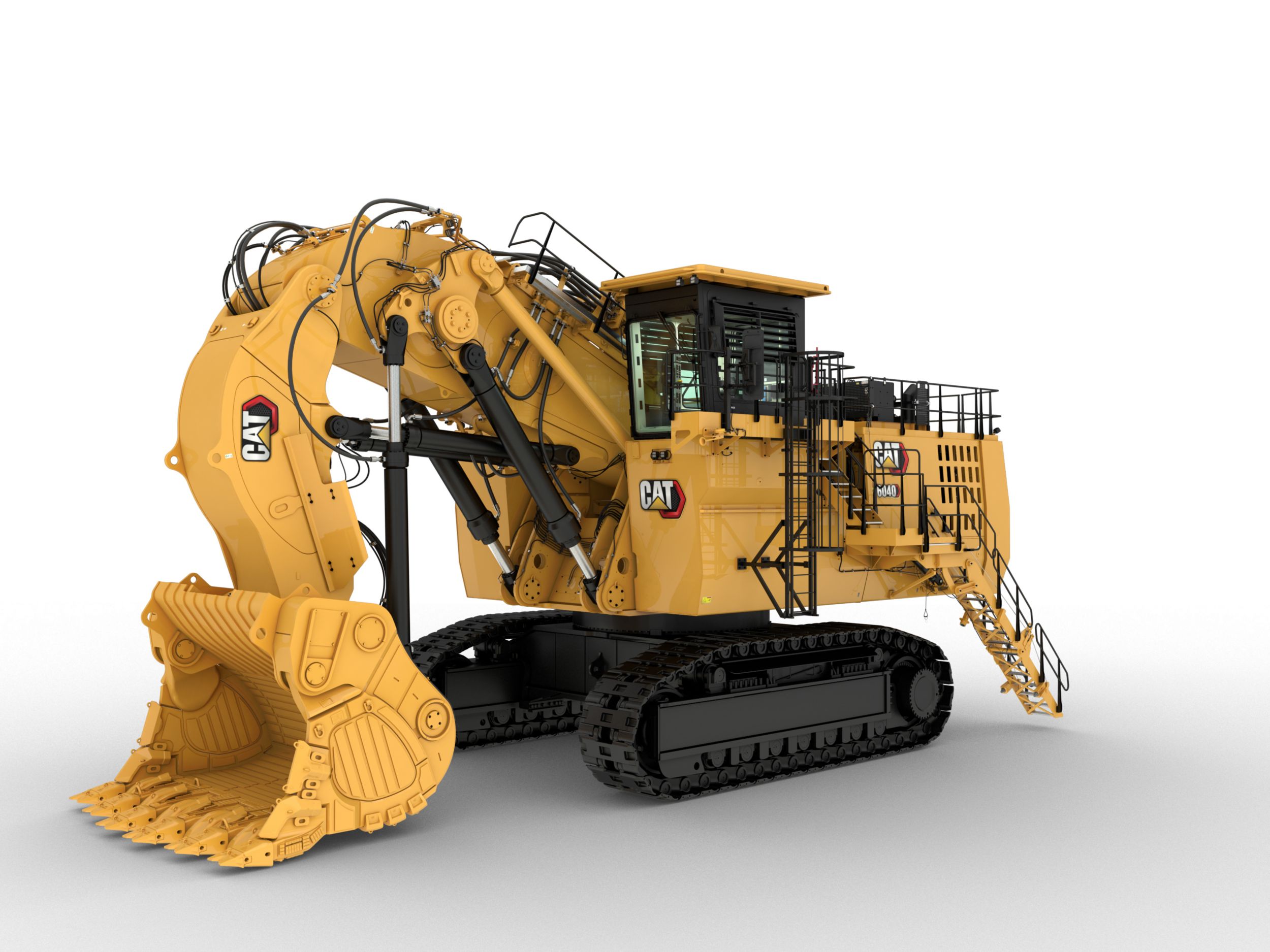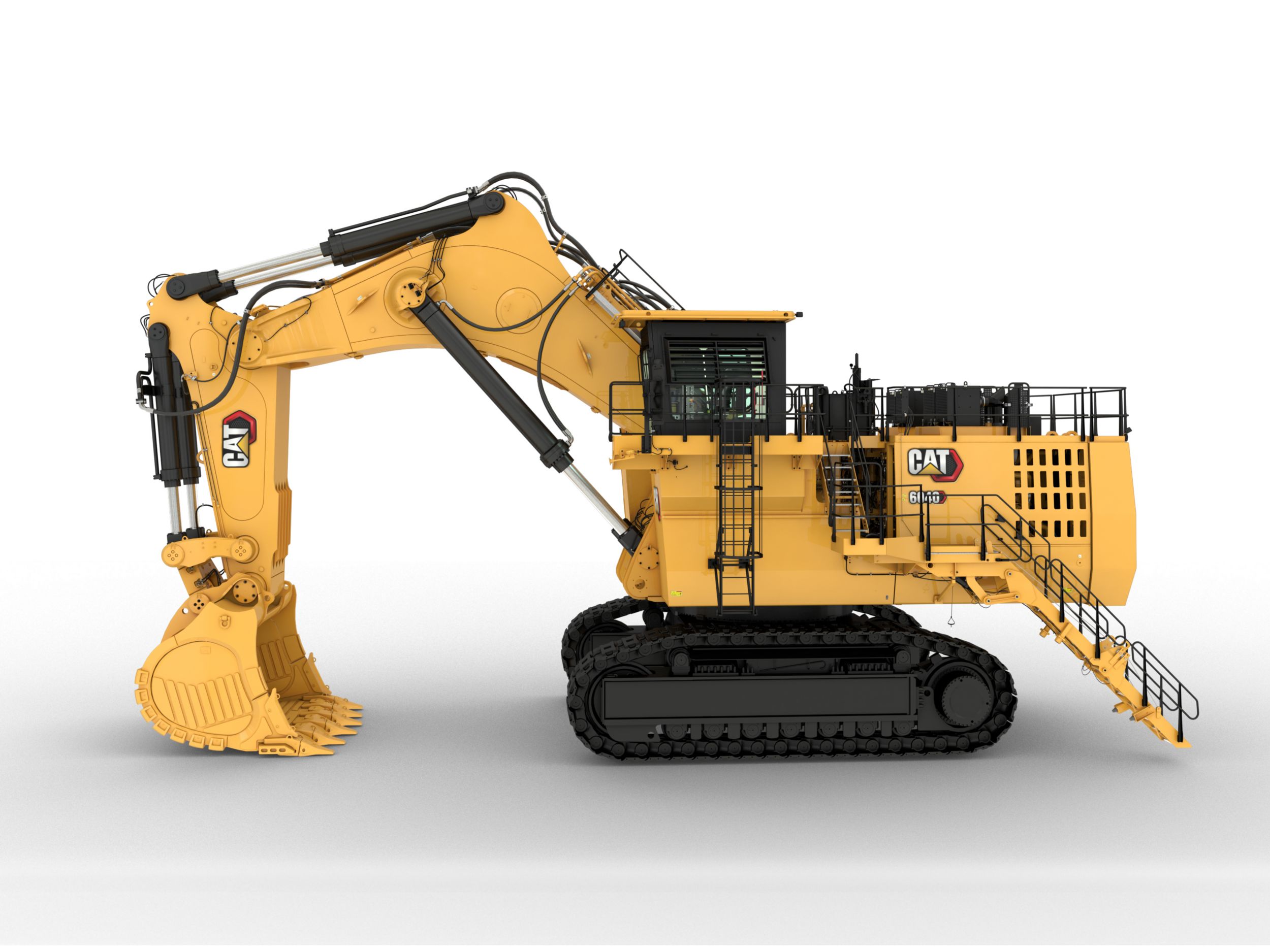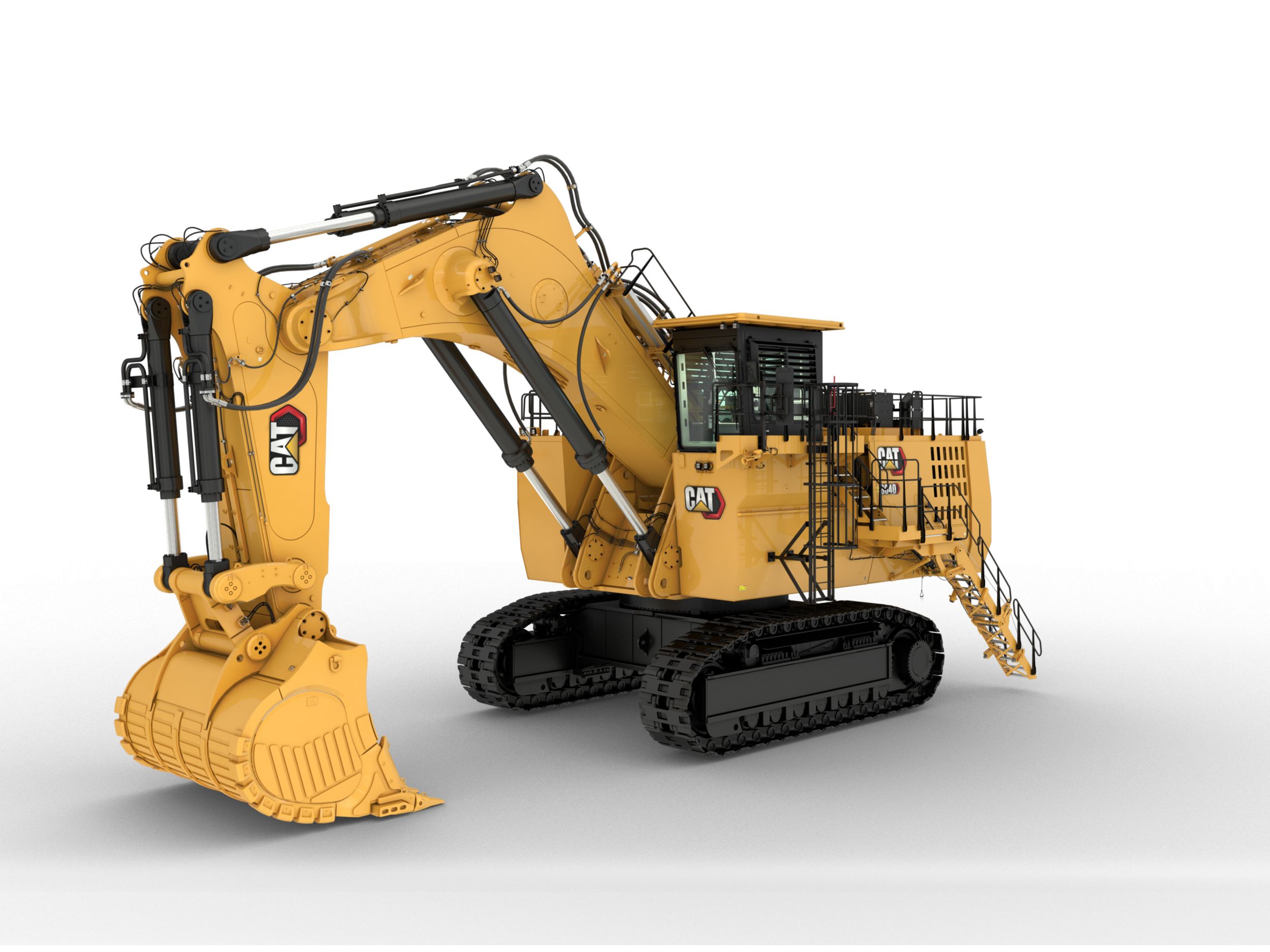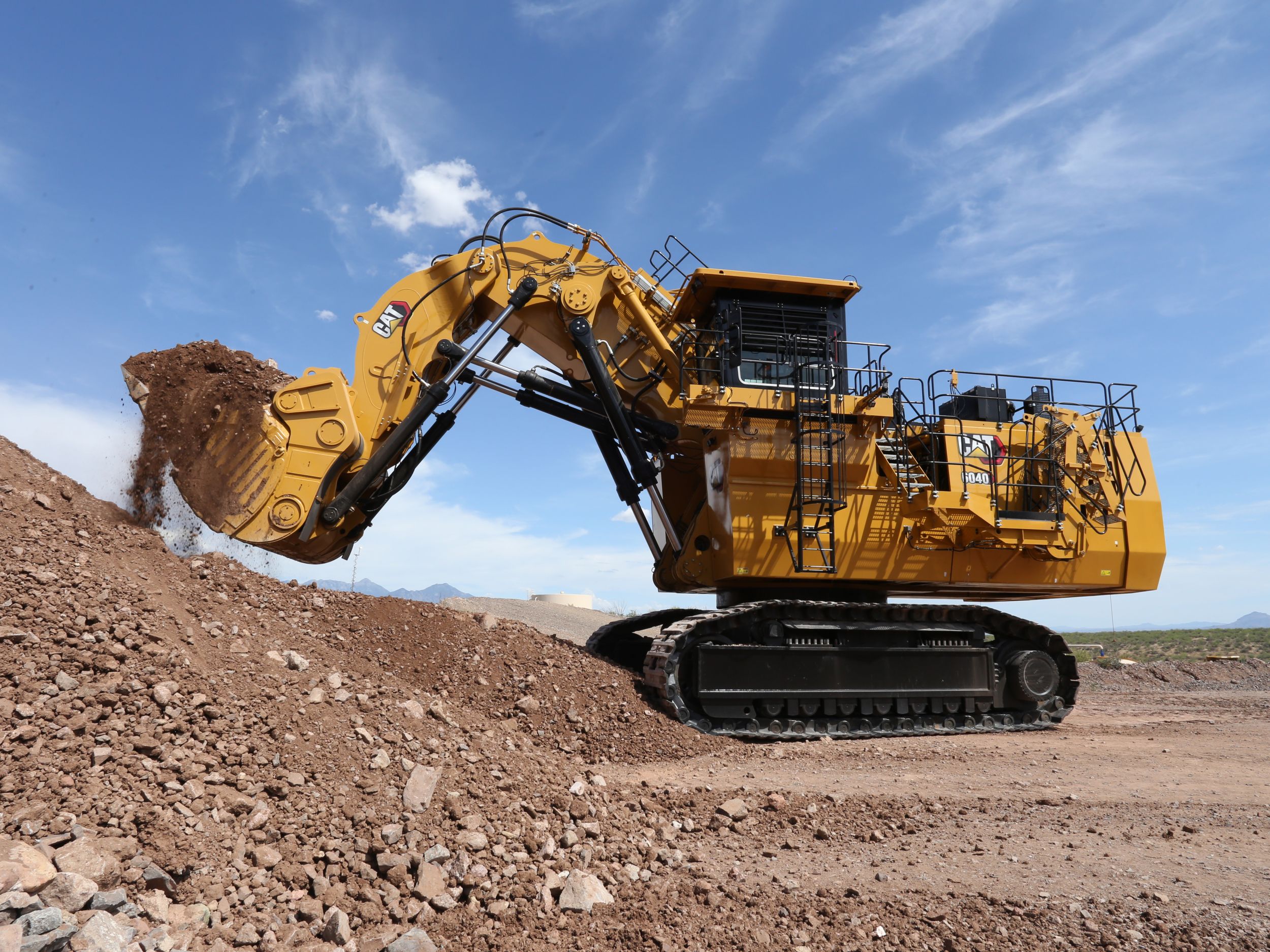 Specifications
Product Brochures
Attachments
General
Engine Output - SAE J1995
2079 HP
1550 kW
Bucket Payload
43.7 ton (US)
39.6 t
Operating Weight
446 ton (US)
404.6 t
Note
Specifications above apply to the HRC Face Shovel configuration. Backhoe and Frontless configurations are also available for both HRC and LRC.
Engine
Gross Power - SAE J1995
2079 HP
1550 kW
Net Power - SAE J1349
1915 HP
1428 kW
Note
Power output relates to highly regulated engines. Lesser regulated engines are also available.
Diesel Engines
Number of Cylinders - Each Engine
12
Displacement
1959 in³
32.1 l
Aspiration
Turbocharged and air-to-air aftercooled
Components (1)
Additional high-capacity water separator
Components (2)
Two-stage fuel filter including water separator
Components (3)
Heavy-duty air filters
Components (4)
Microprocessed engine management
Components (5)
Hydraulically driven radiator fan with electronically controlled fan speed
Fuel Tank Capacity
2098 gal (US)
7940 l
Emissions
Meets U.S. EPA Tier 4 Final and EU Stage V emission standards
Electrical System - Diesel Drive
Batteries in Series/Parallel Installation
6 x 210 Ah - 12 V each; 630 Ah - 24 V in total
Components (1)
6 maintenance-free batteries
Components (2)
Battery isolation relays and switches
Components (3)
Emergency stop switches accessible from ground level, in engine module and in operator's cab
Components (4)
14 LED high-brightness working flood lights
Components (5)
11 LED high-brightness service lights
Operating Weights
6040 FS - Standard Track Pads
3.9 ft
1200 mm
6040 FS - Operating Weight
891980 lb
404600 kg
6040 FS - Ground Pressure
24.1 N/cm2 (35.0 psi)
6040 - Standard Track Pads
3.9 ft
1200 mm
6040 - Operating Weight
897930 lb
407300 kg
6040 - Ground Pressure
24.3 N/cm2 (35.3 psi)
Note
1600 mm track pads available as option
Hydraulic System with Pump Managing System
Hydraulic Tank Capacity - Diesel Version - Approximately
898 gal (US)
3400 l
Total Volume of Hydraulic Oil - Diesel Version - Approximately
1532 gal (US)
5800 l
Main Pumps - Diesel Version
4 x variable swash plate pumps
Main Pumps - Maximum Oil Flow - Diesel Version
4 x 724 L/min (4 x 191 gal/min)
Maximum Pressure - Attachment
4350 psi
300 bar
Maximum Pressure - Travel
5080 psi
350 bar
Swing Pumps - Diesel Version
4 x reversible swash plate pump
Swing Pumps - Maximum Oil Flow - Diesel Version
4 x 321 L/min (4 x 85 gal/min)
Maximum Pressure - Swing Pumps
5080 psi
350 bar
Hydraulic Oil Cooling
Diameter - Fan
60 in
1524 mm
Oil Flow of Cooling Pumps - Diesel Version
2 x 799 L/min (2 x 211 gal/min)
Features (1)
Cooling system fully independent of all main circuits, i.e. controlled cooling capacity is available whenever engine is running
Features (2)
Fan speed is thermostatically controlled
Features (3)
Extremely high cooling efficiency to ensure optimum oil temperature
Components (1)
Gear type cooling pumps supplying high-volume, low-pressure oil to aluminum coolers
Components (2)
Variable axial piston pumps supplying low-volume, high-pressure oil to fans
Swing System
Swing Drive
3 compact planetary transmissions with axial piston motors
Parking Brake
Wet multiple disc brake, spring-loaded/hydraulically released
Maximum Swing Speed - Diesel Version
4.7 r/min
4.7 r/min
Swing Ring
Triple-race roller bearing with sealed internal gearing
Features (1)
Dirt wipers at swing ring to prevent build-up of debris between swing ring and carbody
Features (2)
Closed-loop swing circuit with torque control
Features (3)
Hydraulic braking of the swing motion by counteracting control
Features (4)
All raceways and the internal gearing of swing ring supplied by automatic central lubrication system
Undercarriage
Travel Speed - 1st Stage - Maximum
0.93 mile/h
1.5 km/h
Travel Speed - 2nd Stage - Maximum
1.55 mile/h
2.5 km/h
Maximum Tractive Force
471260 lb
2097 kN
Gradeability - Travel Drives - Maximum
57 %
57 %
Track Pads - Each Side
42
Bottom Rollers - Each Side
7
Support Rollers - Each Side
2 plus a skid plate in between
Travel Drives - Each Side
1 planetary transmission with 2 two-stage axial piston motors
Parking Brake
Wet multiple disc brake, spring applied/hydraulically released
Components (1)
All running surfaces of sprockets, idlers, rollers and track links are hardened
Components (2)
Acoustic travel alarm
Components (3)
Cast double-grouser combined pad-links with bushings connected by hardened full floating pins
Components (4)
All teeth contact areas of sprocket and pad links are hardened
Components (5)
Fully hydraulic self-adjusting track tensioning system with membrane accumulator
Components (6)
Automatic hydraulic retarder valve to prevent over-speed on downhill travel
Hydraulic Oil Cooling
Diameter - Fan
2 × 1524 mm (2 × 60 in)
Operator's Cab
Operator's Eye Level - Approximately
22.31 ft
6.8 m
Internal Dimensions of Cab - Length
7.22 ft
2200 mm
Internal Dimensions of Cab - Width
5.25 ft
1600 mm
Internal Dimensions of Cab - Height
7.05 ft
2150 mm
Components (1)
Switch in seat cushion to automatically neutralize the hydraulic controls when operator leaves the seat
Components (2)
Pneumatically cushioned and multi-adjustable comfort seat with lumbar support, seat heating, safety belt, head- and armrests
Components (3)
Roller blinds at all windows
Components (4)
Windshield with parallel intermittent wiper/washer
Components (5)
All-round safety glass, armored windshield and sliding side window
Components (6)
Operator Protective Guard (Top Guard)
Components (7)
Single HVAC with option for Dual HVAC
Components (8)
Joystick controls integrated in independently adjustable seat consoles
Components (9)
Fold-away auxiliary seat with safety belt
Components (10)
External sun shields at side and rear windows
Components (11)
Sliding emergency ladder (kick-down type) with ladder cage
Components (12)
Machine access via retractable access stairway, stairway angle approximately 45 degrees, hydraulically operated
Components (13)
Robust instrument panel including large colored BCS screen with transflective technology
Board Control System (BCS III) Features (1)
USB, Lan (TCP/IP) and CAN BUS interfaces for data export
Board Control System (BCS III) Features (2)
On-screen PDF documentation (e.g. operating instructions, technical handbook, spare parts catalog, electric circuit diagram)
Board Control System (BCS III) Features (3)
Robust instrument panel including large (12 in) colored touch screen for intuitive handling
Board Control System (BCS III) Features (4)
Electronic monitoring, data logging & diagnostic system for vital signs & service data of engines, hydraulic & lube systems
Board Control System (BCS III) Features (5)
On-screen troubleshooting assistance
Board Control System (BCS III) Features (6)
Graphic charts of logged data
Board Control System (BCS III) Features (7)
Fault memory with storage of related conditions
Automatic Lubrication System
Capacity - Grease Container
188 gal (US)
710 l
Type (1)
Dual-circuit system with hydraulically driven heavy-duty pumps and electronic time relay control adjust the pause/lube times
Type (2)
System failures displayed by Board Control System
Type (3)
Grease filters (200 µm) between service station and container, as well as directly behind grease pump
Type (4)
Connected to the lubrication system are: - pivot points of attachment, bucket and cylinders
Type (5)
Connected to the lubrication system are: - raceways of the swing roller bearing - two greasing pinions for the internal gearing of the swing ring
Attachments
All buckets (FS and BH) are equipped with a wear package consisting of: (1)
- Special liner material covering main wear areas inside and outside of bucket - Lip shrouds between teeth
All buckets (FS and BH) are equipped with a wear package consisting of: (2)
- Wing shrouds on side walls - Heel shrouds at bottom edges
Shovel attachment with unique TriPower kinematics ensuring the following main features: (1)
- Automatic roll-back limiter to prevent material spillage - Kinematic assistance to hydraulic forces
Shovel attachment with unique TriPower kinematics ensuring the following main features: (2)
- Horizontal automatic constant-angle bucket guidance - Vertical automatic constant-angle bucket guidance
Shovel attachment with unique TriPower kinematics ensuring the following main features: (3)
- Constant boom momentum throughout the whole lift arc - Crowd force assistance
Type (1)
Inspection hole in monoboom BH
Type (2)
Pressure-free lowering of boom (FS and BH) and stick (FS) by means of a float valve
Type (3)
Special wear packages for highly abrasive materials on request
Type (4)
Catwalks with rails at boom (FS and BH)
Type (5)
Welding procedures allow for internal counter-welding (double prep weld) wherever possible
Type (6)
Boom and sticks are stress-relieved after welding
Type (7)
Boom and sticks are torsion-resistant, welded box design of high-tensile steel with massive steel casting at pivot areas
Type (8)
Guards for shovel cylinders (FS)
Bucket
Bucket Capacity - Backhoe (heaped 1:1)
28.8 yd³
22 m³
Bucket Capacity - Face Shovel (heaped 2:1)
28.8 yd³
22 m³
Retractable Service Station
Installation
Retractable service station installed underneath the engine module and easily accessible from ground
Operating Weights
6040 FS - Note
Other track pads available on request