DON'T LET HYDRAULICS SYSTEM PROBLEMS SNEAK UP ON YOU
Worn out or damaged hydraulic pumps and motors can reduce machine performance and efficiency. In fact, most operators probably won't even notice until machine performance has diminished. Even worse, failing hydraulics can cause other problems down the line — including contamination, damage to additional components, catastrophic failure, and expensive system clean-outs.
Now until the end of the year, take advantage of special 0% financing along with discounts on select pumps and motors.
Download Hydraulic Capabilities Brochure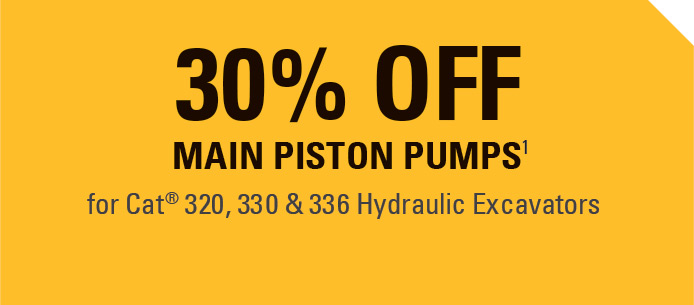 FIGHT BACK AND SAVE BIG NOW
We're offering 30% off main piston pumps for Cat® 320, 330, and 336 Excavators1 and 18% off other select pumps and motors2 — with 0% financing through the Cat Card program, plus a free complimentary component inspection (with recommended repair options). Standard 12-month Caterpillar parts warranty included3. Have us do the installation and we'll also take care of any resultant damage if the part fails within the coverage period. Limitations may apply, contact Carter Machinery for complete details about this warranty.
1This offer applies to the main piston pump for a 320C, D, E, or F, 330C, and 336D, E, F, Next Gen and GC machines. 2This offer applies to the various piston pumps and motors for a 312, 325, 330, 345, 349, 953, 963, 120, 140, D6, D8, D9, 938, 950, 966, 972, 980, 988. 3Limitations may apply. For complete details about the applicable Caterpillar Limited Warranty, contact Carter Machinery. Special price expires on 12/31/22.