Fuel or Finance
Two Ways to Save on Your Next Machine
Whether you want to reduce your ownership expenses or operating costs, we have two great options to save big. Finance select new Cat® machines for as low as 2.99% for 48 months or pay cash and take advantage of the fuel payback option where you'll receive account credit for up to 1,500 hours or 24 months of fuel utilization, whichever occurs first.*
Whatever purchase option you choose, you'll also receive a Cat Customer Value Agreement with your machine, giving ultimate peace of mind on your equipment protection and maintenance needs.
Take advantage of this offer by contacting us today!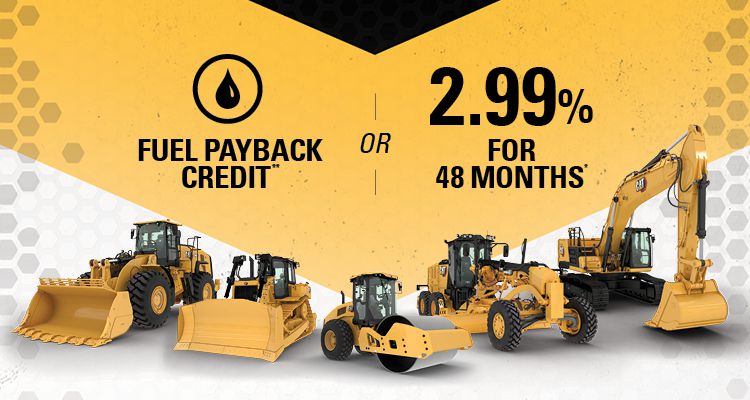 Eligible Models
MOTOR GRADERS
MEDIUM WHEEL LOADERS
TRACK-TYPE LOADERS
MEDIUM DOZERS
LARGE EXCAVATORS
MEDIUM EXCAVATORS
WHEELED EXCAVATORS
ARTICULATED TRUCKS
SOIL COMPACTORS
120
950M
953K
D4
336
320
538GF
M314F
725C2
CP34
120 AWD
950 GC
963K
D6K
336 GC
320 GC
538LL
M314
725
CP44
12M3
962M
963
D6N
340LRE
323
548GF*
M315F
730
CP54
12M3 AWD
966M
973K
D5
340SB
325F
548LL*
M315
730 EJ
CP56
140
966M XE
D6T
340F UHD
325
558GF*
M316F
735
CP68
140 AWD
972M
D6
349F
326F
558LL*
M316
740 GC
CP74
140 GC
972M XE
D6 XE
349
326
568GF*
M317F
740 EJ
CS34
140M3
980M
352F
330
568LL*
M318F
745
CS44
140M3 AWD
982M
352
330 GC
M318
CS54
150
352LRE
335F
M320F
CS56
150 AWD
352UHD
335
M320
CS64
160
M322F
CS68
160 AWD
CS74
160M3
CS78
160M3 AWD
*Offers valid through 6/30/2022 on select new models of Cat machines including Articulated Trucks, Medium Dozers, Medium & Large Hydraulic Excavators, Motor Graders, Soil Compactors, Track Loaders, Medium Wheel Loaders, and Wheeled Excavators. *Financing and published rate are subject to credit application and approval through Carter Machinery, Inc. and Cat Financial Services Corporation for customers who qualify. **Customers have 60 days from date of sale to enroll their machine(s) in the Fuel Program. Customers will receive $2.25 US/gallon credit for all qualifying models for up to 1,500 hours or 24 months, whichever occurs first from the date of sale. Credits are provided twice a year, up to 1,500 hours or 24 months from date of sale and are issued by Cat Financial. ***Preventative Maintenance Services include PM1, PM2, PM3, and PM4 parts kits through first 5,000 hours at 500 hour intervals and include: filters, oil samples, and 3 years of VisionLink Daily. Offers subject to change without prior notice. Additional terms and conditions may apply.