Makayla
Apprentice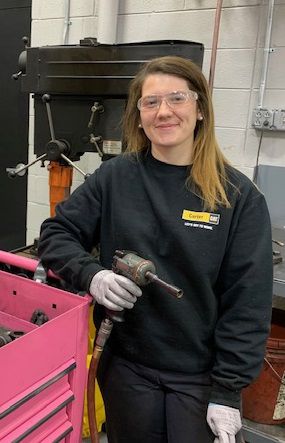 Makayla is originally from Craig County and graduated from Salem High School in June. After graduation she enrolled in Carter's apprenticeship program and is the first female apprentice entered into the program. She has been working weekends in the Recon Shop and says she loves the work and the people she works with. Carter team members who don't already know Makayla, know of her after seeing her pink toolbox around the shop floor. Here's her story of how she came to Carter.
What made you choose to pursue a career as a Technician?
Two Carter team members came to Salem High School and gave a presentation on the company and apprenticeship. I applied for the Recon Shop, so they called me and I came in for a tour. Growing up around the farm, my papa was always working on something, and I was watching him building and tearing down engines. I always had an interest in it and saw myself doing something similar in my career path. In high school, I took auto tech for four years, and a little bit of welding, but what really got me started was when I rebuilt the engine in my first vehicle – a Chevy pickup.
What are you enjoying the most about your apprenticeship?
The work is great – I love it. It's something different every day. Even if I'm tearing down every day, it's still something different because I never know what I'm going to run into. I'm also learning a lot. I just had a class on electronics and will have classes in the future on hydraulics.
What are you finding the most challenging about your apprenticeship?
The work is probably the biggest surprise because it's a lot different than I thought it would be when I started. I never worked with diesels before and they're a lot different than I thought.
What do you hope to do once you have completed the program?
Right now I haven't done a lot of rebuilding yet because I haven't really been exposed to it or been entirely comfortable with it. I'm looking forward to getting my diesel certification and will probably be working from there. In January, I'll be moving to day shift where I'll get to see more – including short blocks and the dyno running – and will get more comfortable with the assembly side.