Kyle
Apprentice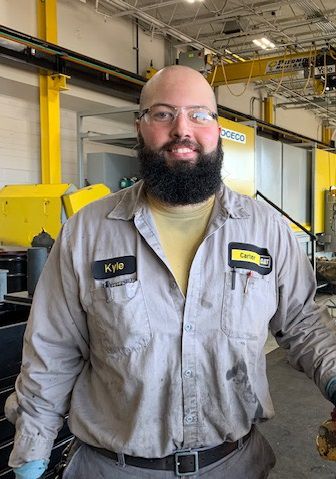 Kyle worked for Carter for two and a half years in the Warehouse before applying to one of Carter's open Technician positions. Although his lack of experience prevented him from getting that job, he was able to take part in the Apprenticeship Program, getting the opportunity to pursue his goals of becoming a technician.
What made you choose to pursue a career as a Technician?
This type of work always interested me. I thought working on engines would be really cool, and I wanted to give it a try.
What are you enjoying the most about your apprenticeship?
I had no experience prior to this Apprenticeship Program. Coming in and getting the chance to learn something totally new is awesome. I have two mentors assigned to me who have been great to work with. They've been teaching me everything. I'm learning a lot from them.
What are you finding the most challenging about your apprenticeship?
There is so much to learn. I'm finding that there are so many different types of engines and machines we work on – remembering all the details on each is challenging. The amount of learning involved is difficult, but that's also what I like about it. I'm constantly learning and challenging myself.
What do you hope to do once you have completed the program? Eventually, I think I want to do engine assembly. We'll see where I go from there. Carter has so many opportunities and there is a defined career path here, so it's nice to see that I can do a lot with this type of career.
What advice would you give to anyone considering applying for an apprenticeship program at Carter?
I'd tell them don't be afraid if you don't know something – there are people here willing to show you and teach you. If you're willing to put forth the effort and really take the time to learn this trade, they'll train you and show you how to do things the right way.
Do you feel you have been supported here at Carter?
Absolutely. I was working in a completely different department, but really had an interest in becoming a technician. What I thought was so great was that they saw that I was interested in this career since I applied for the job before and they asked if I was interested in the Apprentice Program. Of course, I jumped at the opportunity. I was nervous at first since I didn't really have experience, but everyone is so willing to help you, it's not like you have to fend for yourself. There is a ton of support. I'm about a year in so far, and I should be finished in March. I've already learned so much and am really enjoying the experience.