Chris
Apprentice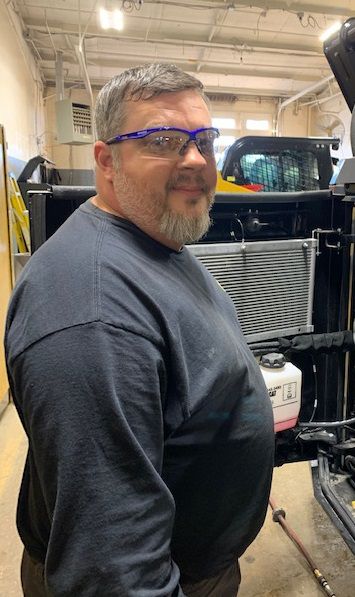 Chris is originally from the Roanoke/Salem area and has really done it all professionally. He's worked at a homeless shelter, in construction, restaurants and even at a greenhouse nursery. But mechanics has always sparked his interest. Chris enlisted in the Army in 1999 because he felt it was something he needed to do and went on to be a part of the 101st Airborne Division, when he was deployed to Iraq. After serving for 5 years, Chris decided to pursue his passion and enroll in Advanced Technology Institute (ATI). After graduating, he applied to Carter and has been here for three years. He is now a part of our Apprenticeship Program and thoroughly enjoys every part of it.
What made you choose to pursue a career as a Technician?
It always sparked my interest. I was always repairing things around the house growing up. I wasn't always good at it, but I figured out how to make them work. After the Army, I went to school in Virginia Beach at ATI. Because my wife and daughter were back in the Roanoke area, I knew I wanted to get a job back here. When I got my diploma, I applied at Carter. I always wanted to work here because I knew it had a great reputation and product.
What are you enjoying the most about your apprenticeship?
It's a fantastic, extremely thorough program. I'm learning a ton and I get to put that knowledge to work every day. I get the best of both worlds through this program. Not only am I learning, but I'm also earning at the same time. I also like the people I work with. I've got people who are older than me with decades of experience, and people who are younger and know more than I do, but everyone is willing to teach you if you're willing to learn. It's a real unique opportunity.
What are you finding the most challenging about your apprenticeship?
There are a lot of classes, and it's an extensive schedule. You learn how to maintain your schedule and balance your work and class time. It's great when I learn something in the computer-based class and am then able to use that knowledge in the classroom from the instructor. It's great how they set that up, and you really get that hands-on experience from what you learn in the classes.
What do you hope to do once you have completed the program?
I am in the tractor shop primarily, and they pull me in as they need me. I plan to be here as long as they let me because I know I have a lot more to learn. But I love it because each day I'm working on something new – no two days are alike.
What advice would you give to anyone considering applying for an apprenticeship program at Carter?
If you are thinking of doing it, do it. Don't hesitate – especially if it's something that you love to do, and you have the aptitude for. It's a real unique opportunity that you won't find in many places – an opportunity to get paid and trained at the same time. When you're done, you get a certification that is nationally accredited from the Department of Labor. That's huge.
What would you say about the support you are given as an apprentice?
I've been completely supported during this program. My bosses know that I'm required to do the work in the classroom and they respect my time that I need to take to get it done. And it's encouraged to take the classes. They're very supportive of taking the classes I need in order to do my job.