6015 Hydraulic Shovel
The Cat® 6015 Hydraulic Shovel lets you move more material at a lower cost, so you can achieve production targets, deliver on your commitments, meet deadlines and maximize your profitability. With class-leading tool carrying capacity, increased durability and the most powerful engine in its class, the Cat 6015 generates higher productivity and fuel efficiency than other shovels. And it's offered with more and better options that let you match your machine to your operation — from access and cold weather packages to multiple stick and track pad options. In addition, a large range of buckets is available, giving you optimum payload and machine efficiency for your operation. And the 6015's high tool carrying capacity gives you the ability to employ large buckets and move more in fewer cycles.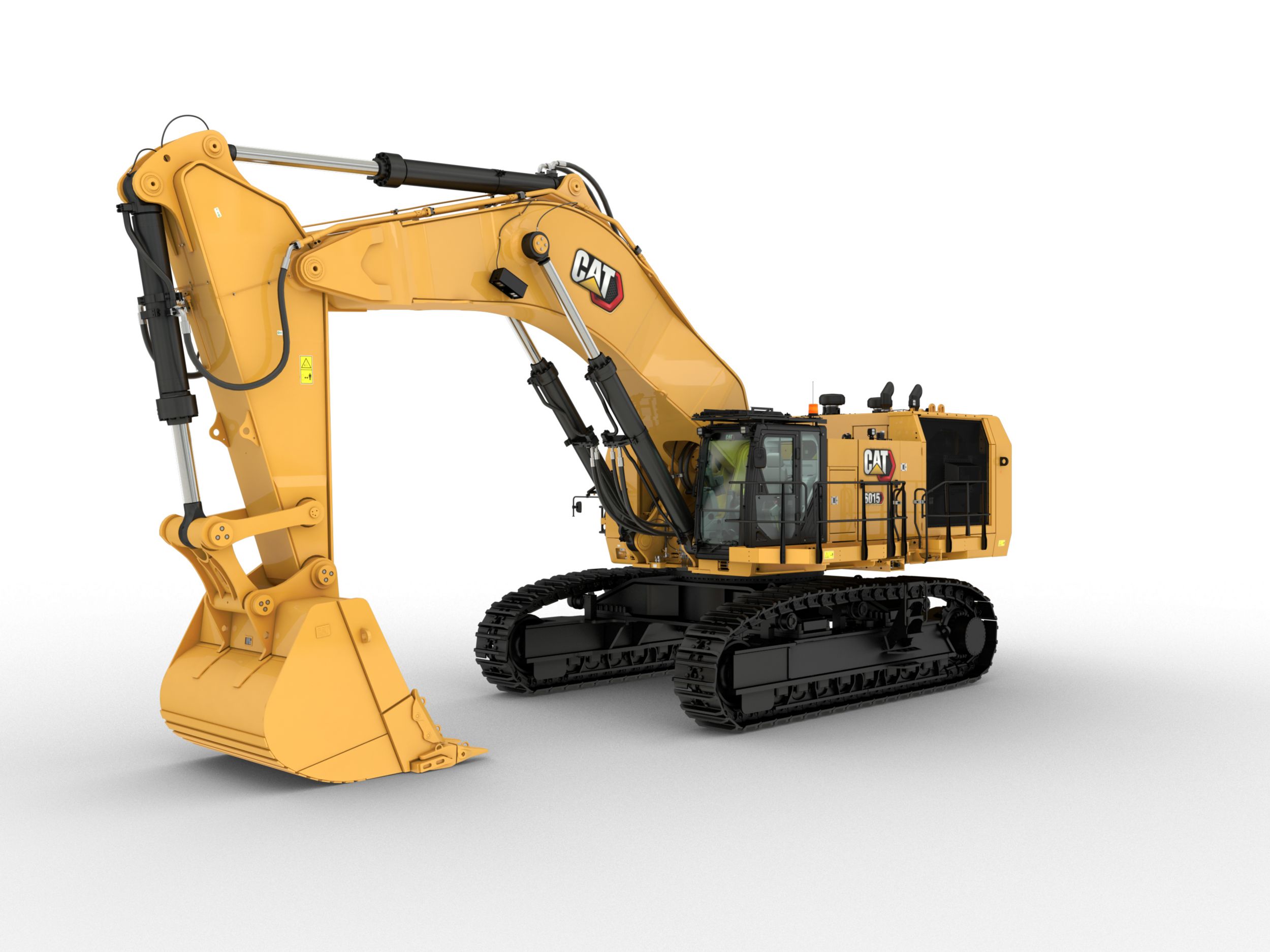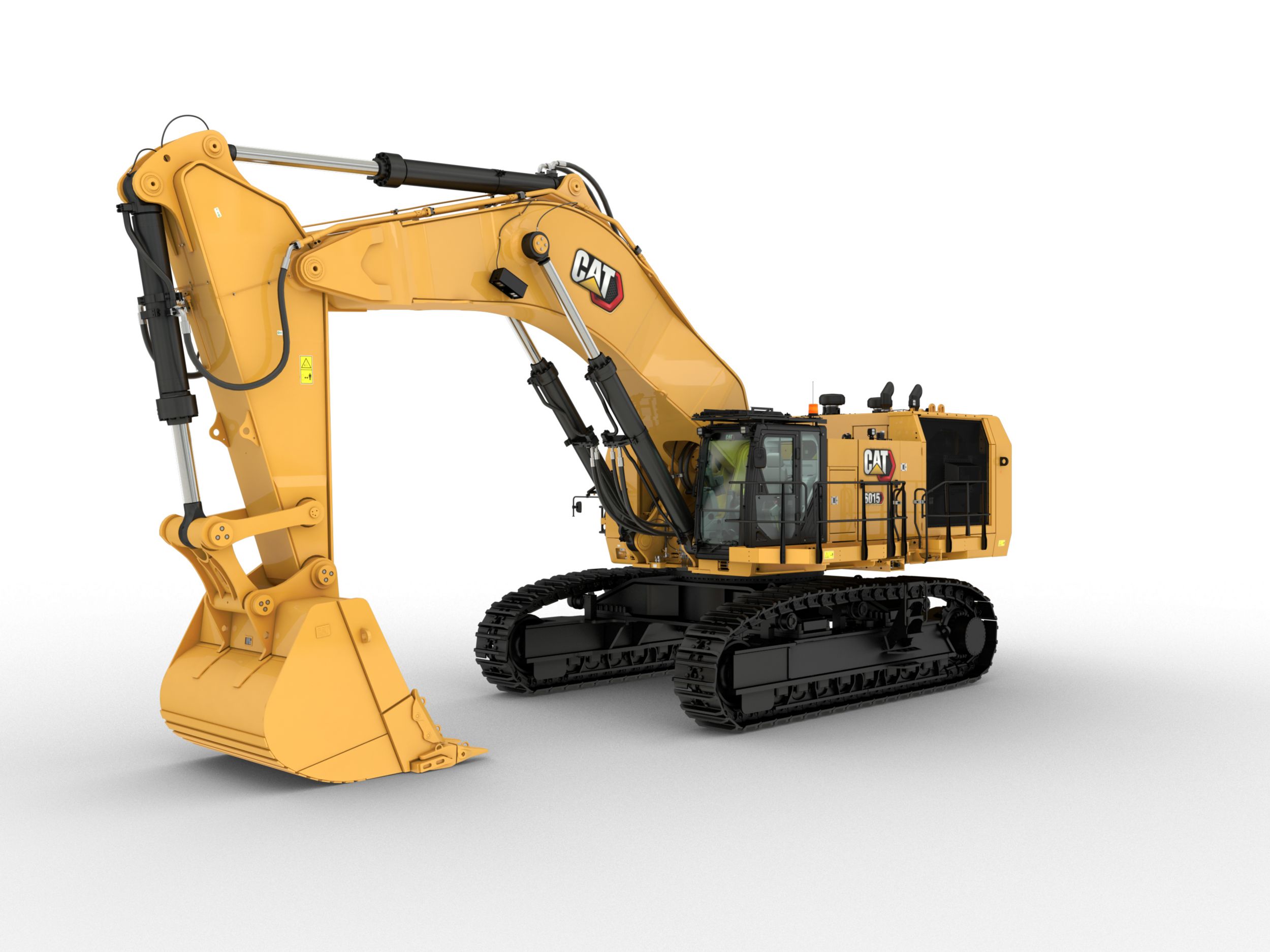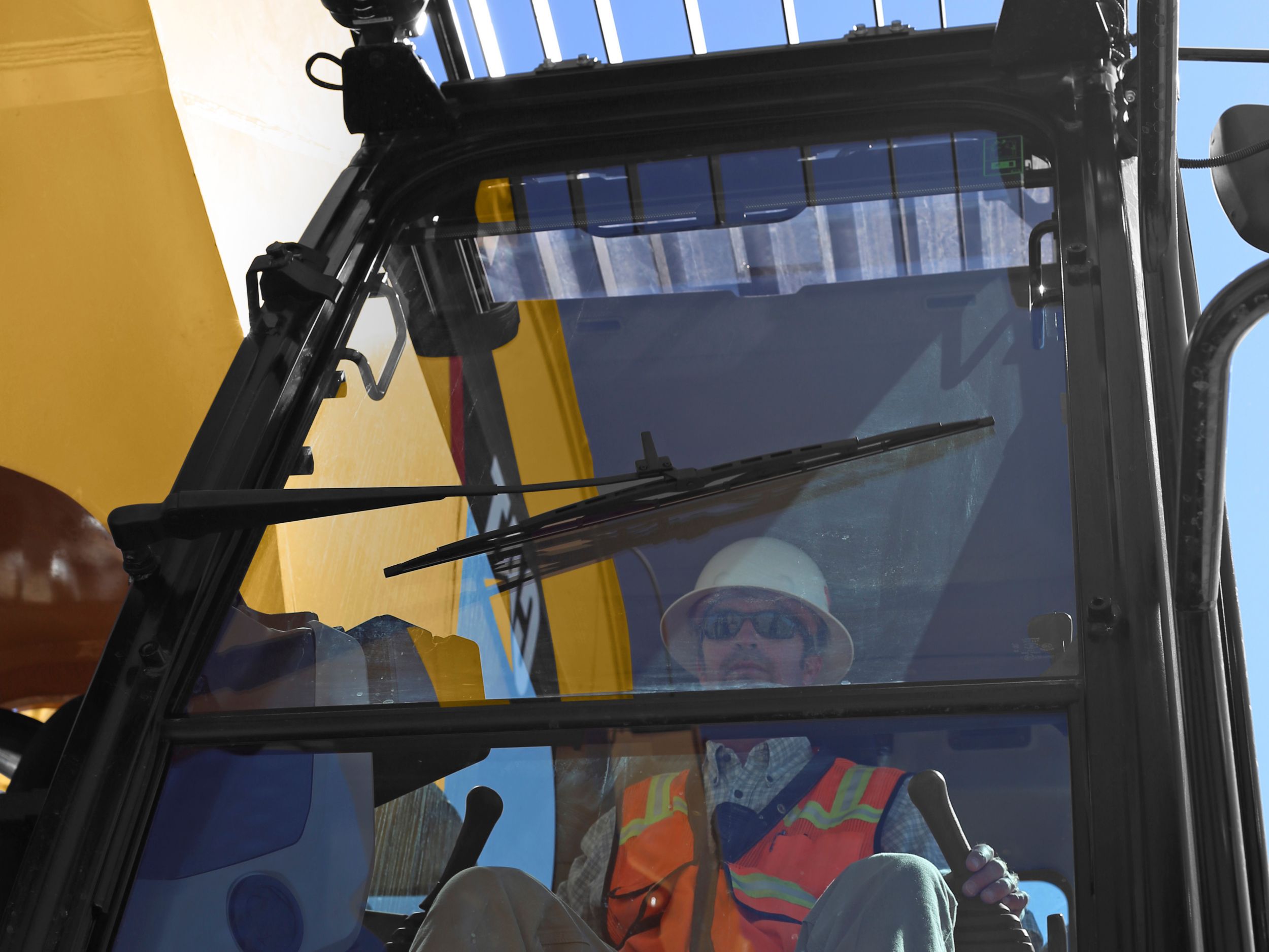 Specifications
Product Brochures
Attachments
General
Engine Output - SAE J1995
824 HP
615 kW
Bucket Payload
16.1 ton (US)
14.6 t
Operating Weight
154.3 ton (US)
140 t
Note
Specifications shown above apply to highly regulated, backhoe configuration. Lesser regulated and frontless configurations are also available.
Engine - U.S. EPA Tier 4 Final
Gross Power - SAE J1995
824 HP
615 kW
Net Power - SAE J1349
746 HP
556 kW
Engine - Cat C27 with Tier 4 Final Emission Standards
Displacement
1648 in³
27 l
Engine - Equivalent to U.S. EPA Tier 2
Gross Power - SAE J1995
839 HP
626 kW
Net Power - SAE J1349
746 HP
556 kW
Engine - Cat C27 with Tier 1 or Tier 2 Equivalent Emission Standards
Displacement
1648 in³
27 l
Aspiration
Turbocharged and air-to-air aftercooled
Engine
Emissions
U.S. EPA Tier 4 Final and EU Stage V; China Nonroad Stage III, equivalent to U.S. EPA Tier 2; Equivalent to U.S. EPA Tier 1
Operating Weights - Backhoe
Operating Weight
154 ton (US)
140 t
Weights
Ground Pressure
23.6 psi
16.3 N/cm²
Note
Operating weight includes: 700 mm (28 in) track shoes, 7.6 m (24 ft 11 in) boom, 3.4 m (11 ft 2 in) stick, standard rock bucket, 100% fuel and lubricants
Track
Number of Shoes - Each Side
46
Number of Track Rollers - Each Side
9
Number of Carrier Rollers - Each Side
3
Track Pads
Double grouser
Drive
Travel Speed - Two Stages - 1st Stage - Maximum
1.4 mile/h
2.3 km/h
Travel Speed - Two Stages - 2nd Stage - Maximum
2.1 mile/h
3.3 km/h
Maximum Drawbar Pull - Forward
192886 lbf
858 kN
Maximum Drawbar Pull - Reverse
220987 lbf
983 kN
Gradeability - Travel Drives
Approximately 42%
Hydraulic Track Tensioning
With accumulator
Service Refill Capacities
Fuel Tank
449 gal (US)
1700 l
Cooling System
44 gal (US)
165 l
Engine Oil
23 gal (US)
87 l
Swing Drive
2.4 gal (US)
9 l
Hydraulic System - Including Tank
463 gal (US)
1752 l
Hydraulic Tank
253 gal (US)
956 l
Grease Tank
18 gal (US)
68 l
Electrical System
Batteries
4 × 200 Ah (12 V each)
Alternator Rating
150 A (24 V) in total
Components (1)
Emergency stop in cabin, engine module, pump room and on service station accessible from ground level
Components (2)
Four maintenance free batteries
Components (3)
Lockable battery isolation switch
Components (5)
14 LED high-brightness working lights
Components (4)
5 LED service lights
Components (6)
2 electric horns
Components (7)
Two (2) lights for rear end
Components (9)
One (1) beacon light on cabin roof
Components (8)
One (1) light for machine deck/service
Hydraulic System
Main Pumps
3 × variable swash plate pumps
Main Pumps - Maximum Total Oil Flow
407 gal/min
1544 l/min
Main Pumps - Maximum Pressure - Attachment
4641 psi
320 bar
Pilot Pump - Maximum Flow, Pilot
40.4 gal/min
153 l/min
Pilot Pump - Maximum Pressure, Pilot
1378 psi
95 bar
Main Pumps - Maximum Pressure - Travel
4641 psi
320 bar
Swing Pump
1 × variable swash plate pump
Engine Fan Pump - Maximum Flow, Engine Fan
53.1 gal/min
201 l/min
Engine Fan Pump - Maximum Pressure, Engine Fan
3191 psi
220 bar
Engine Fan Pump
1 × variable swash plate pump
Hydraulic Fan Pump - Maximum Flow, Hydraulic Fan
22.7 gal/min
86 l/min
Swing Pump - Maximum Flow - Swing
127 gal/min
479 l/min
Hydraulic Fan Pump
1 × variable swash plate pump
Hydraulic Fan Pump - Maximum Pressure, Hydraulic Fan
1958 psi
135 bar
Swing Pump - Maximum Pressure - Swing
5294 psi
365 bar
Hydraulic Oil Cooling - Maximum Flow
284 gal/min
1075 l/min
Hydraulic Oil Cooling - Diameter of Fan
40 in
1016 mm
Filters (1)
Full-flow high-pressure filters (200 μm) for main pumps
Filters (2)
Full-flow filters (20 μm) for complete return circuit
Filters (3)
Pressure filters (16 μm) for servo circuit
Filters (4)
Full-flow filters (6 μm) for engine cooling return circuit
Filters (5)
Swing charge filter (15 μm)
Filters (6)
Pump case return screens (125 μm)
Swing System
Swing Drive
Two (2) compact planetary transmissions with axial piston motors
Parking Brake
Wet multiple disc brake, spring-loaded/hydraulically released
Maximum Swing Speed
4.9 r/min
4.9 r/min
Swing Ring
Cross roller bearing with sealed internal gearing
Features (1)
Closed-loop swing circuit with speed control
Features (2)
Hydraulic braking of swing motion when control is returned to neutral position or by counteracting control for stronger braking
Features (3)
All raceways and the internal gearing of swing ring supplied by automatic central lubrication system
Centralized Service Area
Feature
Accessible from ground level
Equipped With (1)
Emergency stop
Equipped With (2)
Quick couplings for: Diesel fuel and Grease
Undercarriage
Travel Speed - Two Stages - 1st Stage - Maximum
1.6 mile/h
2.6 km/h
Travel Speed - Two Stages - 2nd Stage - Maximum
2.3 mile/h
3.7 km/h
Maximum Drawbar Pull - Forward
192886 lbf
858 kN
Maximum Tractive Force
197157 lbf
877 kN
Maximum Drawbar Pull - Reverse
220987 lbf
983 kN
Drive
Maximum Drawbar Pull
179847 lbf
800 kN
Undercarriage
Gradeability - Travel Drives
38°/78% (SAE J1309)
Hydraulic Track Tensioning
With accumulator
Number of Shoes - Each Side
46
Number of Track Rollers - Each Side
9
Number of Carrier Rollers - Each Side
3
Components (1)
Forged double-grouser track pads
Components (2)
Chain links connected by hardened pins and bushings
Components (3)
Postive Pin Retention (PPR2) sealed and greased track design
Components (4)
All running surfaces of sprockets, idlers, rollers and track chain links hardened
Components (5)
Fully hydraulic self-adjusting track tensioning system with accumulator
Components (6)
Automatic hydraulic retarder valve to prevent overspeed on downhill travel
Components (7)
Audible travel alarm
Operator's Cab
Components (1)
Pressurized operator station with positive filtration
Components (2)
Heated cab mirror
Components (3)
Sliding upper door window (left-hand cab door)
Components (4)
Glass-breaking safety hammer
Components (5)
Removable lower windshield with in cab storage bracket
Components (6)
Joystick Controls Alternate Patterns including ISO/JIS, BHL, MHI, KOBE, or SCM
Components (7)
Beverage holder
Components (8)
Literature holder
Components (9)
AM/FM radio
Components (10)
Radio with MP3 auxiliary audio port
Components (11)
Two stereo speakers
Components (12)
Storage shelf suitable for lunch or toolbox
Components (13)
Color LCD display with warning, filter/fluid change, and working hour information
Components (14)
Adjustable armrest
Components (15)
Height-adjustable joystick consoles
Components (16)
Neutral lever (lock out) for all controls
Components (17)
Travel control pedals with removable hand levers
Components (18)
Two power outlets, 10 amp (total)
Components (19)
Laminated glass front upper window and tempered other windows
Automatic Lubrication System
Capacity - Grease Barrel
18 gal (US)
68 l
Type (1)
Central bank lubrication system
Type (2)
Grease is automatically applied to all attachment pivot points (except bucket linkage) and slew bearing
Type (3)
Standard grease reel on machine for bucket linkage
Type (4)
Grease refill service point accessible from ground
Attachments
Type (1)
Boom and stick torsion-resistant with welded box design
Type (2)
High-tensile steel with solid steel castings at pivot areas
Type (3)
Boom and stick stress-relieved after welding
Type (4)
Float valve for boom down function
Buckets Equipped With
– Special liner material covering main wear areas inside and outside – Lip shrouds – Wing shrouds – Heel shrouds
Backhoe Attachment (BH) - Working Range
Maximum Digging Depth
26.3 ft
8 m
Maximum Digging Reach
45.6 ft
13.9 m
Maximum Digging Height
41.9 ft
12.8 m
Maximum Dump Height
27.9 ft
8.5 m
Backhoe Attachment (BH) - Digging Forces
Bucket Digging Force - ISO
120947 lbf
538 kN
Bucket Digging Force - SAE
112600 lbf
501 kN
Stick Digging Force - ISO
104761 lbf
466 kN
Stick Digging Force - SAE
98800 lbf
439 kN
Backhoe Attachment (BH) - Backhoe
Capacity 1:1
10.6 yd³
8.1 m³
Total Width
8.8 ft
2682 mm
Tooth System
Cat C70 or M75
Weight - Including Standard Wear Package
18521 lb
8401 kg
Maximum Material Density - Loose
3030 lb/yd³
1.8 t/m³
Weights
Operating Weight
308000 lb
140000 kg