Ashwin
Apprentice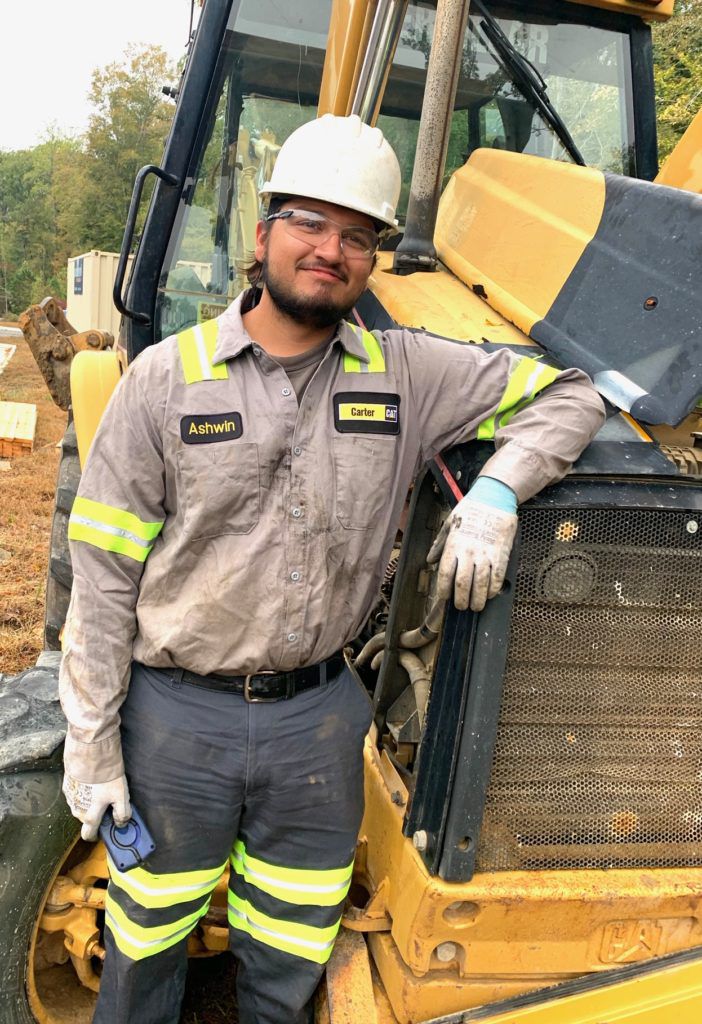 Ashwin is originally from Toano, VA and just bought a house in King William County, VA. He attended Warhill High School in James City County and then went to Tidewater Community College, where he graduated from the Diesel Technology Program.
Ashwin was hired with Carter as an intern in our Williamsburg shop and was then hired full-time in our Apprentice Program after graduating from Tidewater with an associate's degree. He was one of the first apprentices in the program during the summer of 2018 and is now ready to graduate. He has excelled in his time here and was recently promoted to do field service work, which he said he absolutely loves.
What made you choose to pursue a career as a Technician?
I've always liked machines. My uncle owns a logging business and so I was always around his machines, which I loved. I went into this career because I've never thought about doing anything else.
What are you enjoying the most about your apprenticeship?
I like the whole learning environment. I appreciate that it helps the newer technicians get acquainted with the machines. There are plenty of diesel programs out there – many focusing on trucks – but there's really no program specific for machines. This is a great program if you want to know about these big machines and how they operate. The fact that you get a fully accredited certificate at the end of the program is a huge benefit. That definitely helps me with my career.
What are you finding the most challenging about your apprenticeship?
The toughest part is sitting in front of a computer. There is classroom instruction, and that is really helpful, but the computer classes are tough because I like being out in the field. Sitting in front of a computer is tough for me, but fortunately that is only a small portion of the program.
What do you hope to do once you have completed the program?
My goal was to get into the field – and now that I crossed that off my list, I just want to continue this path and better myself in the field. I love what I do right now, so I definitely want to stay where I am.
What advice would you give to anyone considering applying for an apprenticeship program at Carter?
You should definitely go for it. One thing that makes people nervous is the classroom training. It's helpful to remember that when you're in a professional career, those classes can only make you better. Don't let fear of the classes hold you back.
What would you say about the support you are given as an apprentice?
I have the best support here at Carter. If I have any questions, they're there for me – there's no lack of support. Now that I'm in the field, I can call them anytime – they'll help me diagnose a problem with a machine. They've always been right there to answer any of my questions.